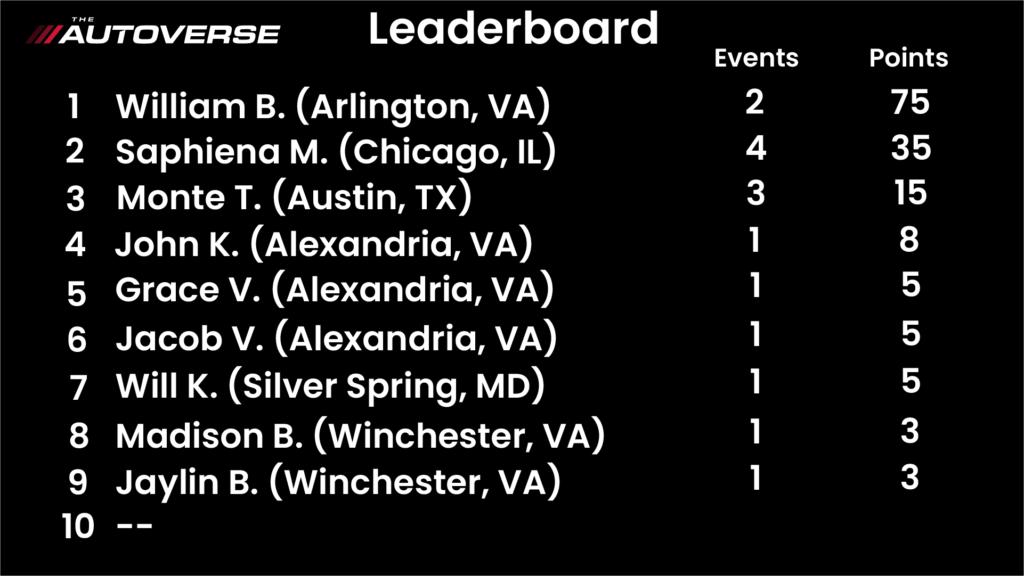 How do you earn points in The Autoverse? Participate!
No, everyone does not get a trophy. But we are a community, so you definitely get credit for showing up.
Point System
3 points – checking in at each official Autoverse Event (hanging out, spectating)
2 points – bonus for participating (e.g., driving a kart if it's a karting event)
5 points – contributing to The Autoverse website (e.g., write an original article, like this one)
1 point – posting about The Autoverse on a major social (e.g., Twitter, FB, Insta)
2 points – posting about The Autoverse in an Instagram Reel or YouTube post
5 points – getting a reel or post approved for posting on The Autoverse website or socials
5 points – placing an Autoverse sticker on your vehicle (prove by posting on a social…which also gets you another point for the post, for six total)
Bonus Points
Setting a fast lap time – 3 points
Going viral with one of your posts (but only if it's in a good way 🙂

5 points – 10k or more impressions
10 points – 100k or more impressions

Organizing your own branded The Autoverse event – 10 points
What do I do with them?
What do you get with these points besides apparent glory and warm fuzzies?
Well, we sent eight people to F1 races in 2022, and three more to the Amelia Island Concours. Chances are pretty good we'll do giveaways like this again.
You can also redeem them for discounts from our partners.
And soon, you'll also be able to redeem them for Autoverse-branded merch in our store (coming soon).
When can I next earn points?
This Saturday! At Katies Cars and Coffee. Details here. Please be sure to find me to get credit. I'll be the chap in The Autoverse shirt wearing Serengetis.
Look for more of our events here.