When I was a kid we had cars trucks, and vans. That was it. No, this isn't a stay off my lawn moment, but I am prone to those. It is actually meant to highlight how it was a simpler time across the automotive landscape back in the 1980s. OK, it was slightly more complex than that, cars came in coupe/convertible, sedan, and wagon and we did have some SUVs, but they were basically trucks with the bed covered. Then we were gifted "the crossover". Those were basically taller wagons for people who didn't want wagons. Which, sadly was most people, and now we don't really have wagons. Or many sedans. Or coupes.
However, I've got some great news, the SUV is now available as a coupe! We recently had a go in the 2021 Audi SQ5 Sportback Prestige, which is one of Audi's sporty coupe-profiled crossovers. Let's see how it lives up to the coupe legacy.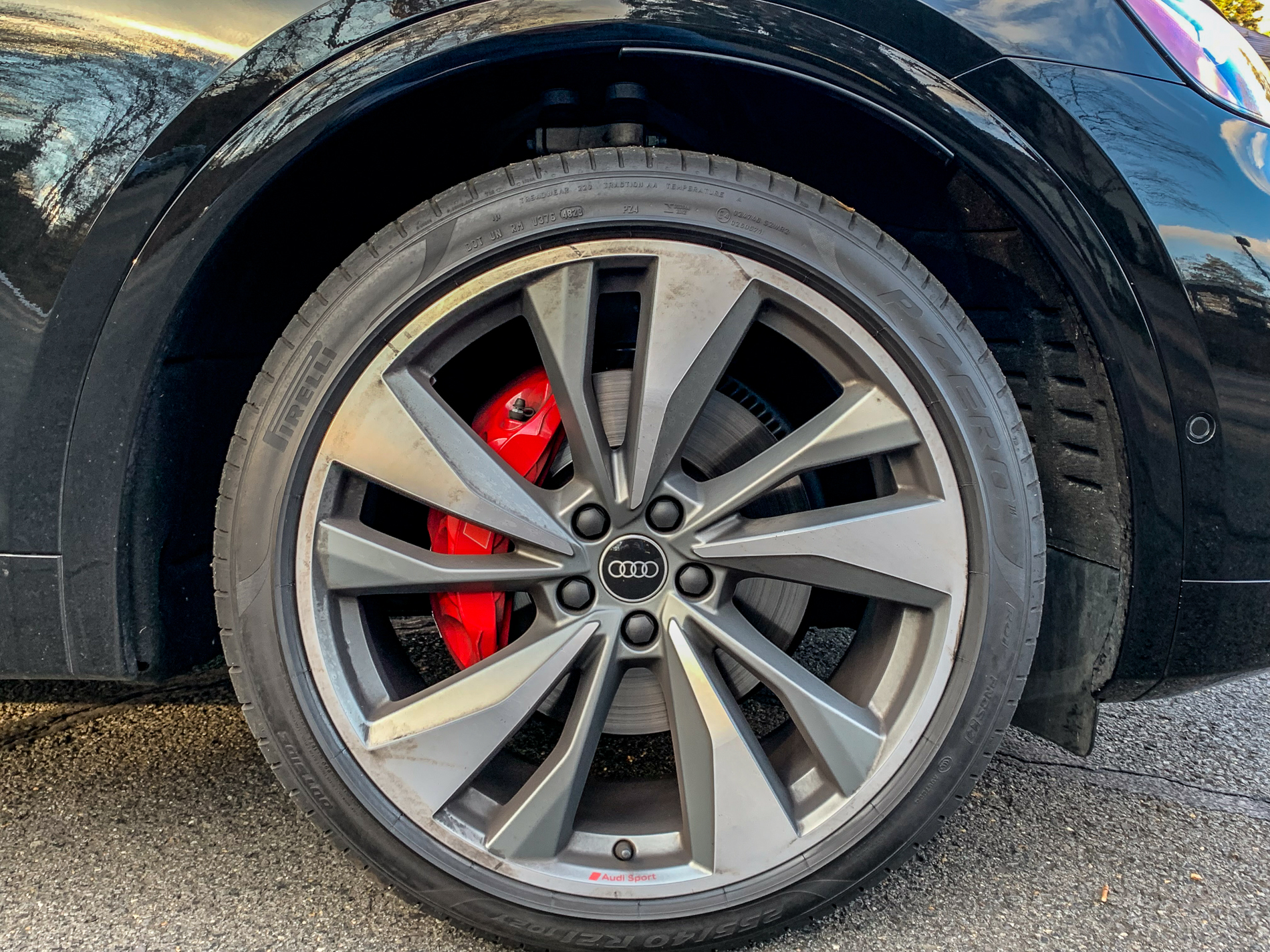 SQ5 Overview
The Audi trim setup is pretty easy for the SQ5, it comes in three trim levels:
Premium
Premium Plus
Prestige
Good, better, best. Wait, actually, let's back up a moment. The SQ5 is actually tarted up version of the Audi Q5. The base Q5 is powered by a 2.0L four-cylinder with 261 horsepower and it also comes in a Sportback version. If you need more oomph though, the SQ5 (SUV and Sportback) gets an upgraded 3.0L turbocharged six-cylinder engine putting out 349 horsepower and 369 lb-ft of torque paired with an eight-speed automatic transmission.
If you want the full luxury spec, the Prestige trim adds quite a bit of goodies. Highlights of the Prestige package include:
Automated parking system
Traffic sign reader
Head-up display
Dual-pane sound-insulating front windows
Navigation system
19-speaker Bang & Olufsen premium audio
Upgraded exterior lighting
Heated rear seats
Interior ambient lighting
Here, check it out, this is our loaner: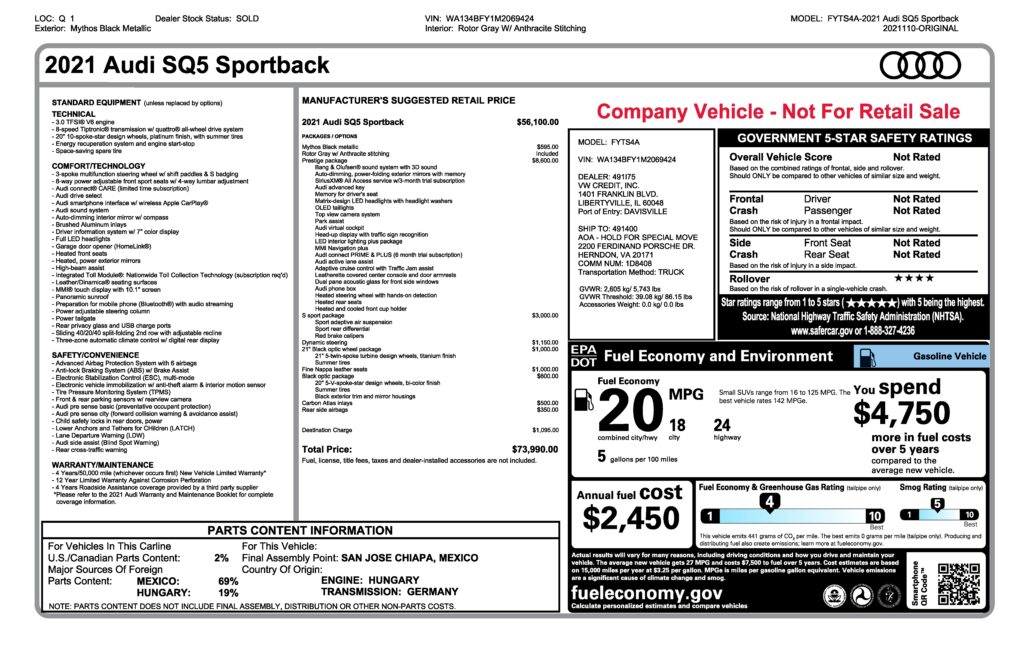 The initial $56,100 starting price of the SQ5 escalates quickly once you add in all the options. The Prestige package adds $8,600, the S Sport Package adds $3,000, and some odds and ends like Dynamic Steering ($1,150), Black Optic Package ($600), Nappa Leather ($1,000), Carbon interior inlays ($500), and rear side airbags $350). The bottom line is near $74,000.
Let's find out if it's worth it.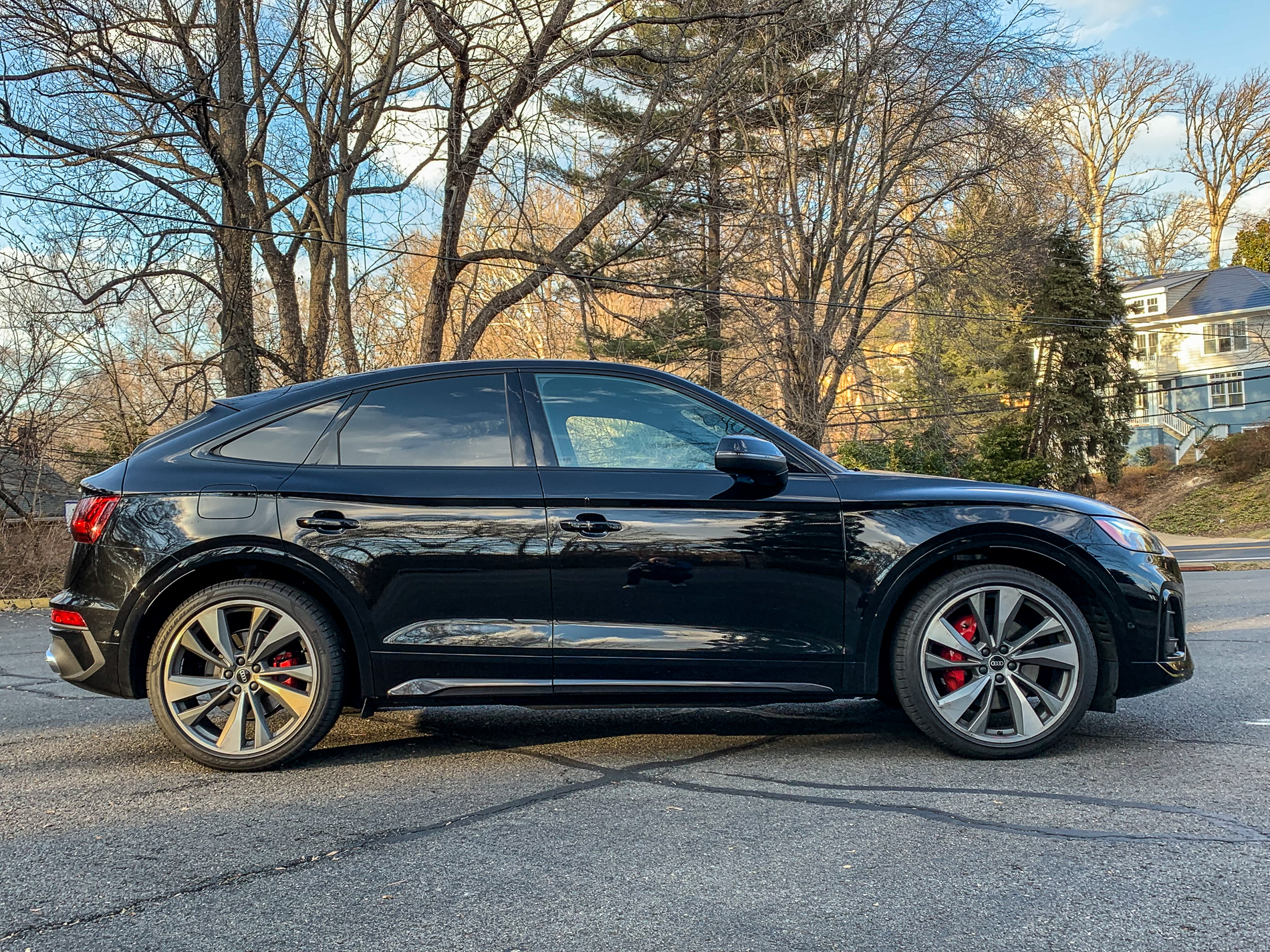 Exterior
I'll admit, I'm in on the whole coupe'y SUV look. Mostly. There are some manufacturers that do it better, and Audi is usually behind the good ones. Sure, you'd think that you have to give up some headroom in the back, but it's not as much as you'd think. Headroom for the standard SQ5 is 38.1 inches while the headroom in the SQ5 Sportback is…38.0 inches. So, the good looks don't come with any real compromise from a passenger comfort perspective.
The "black optic" package adds 21-inch five-spoke turbine-style wheels. They're not my favorite, but the wheels and tires only add $600 to the bottom line. Most of the options add to the interior, while I'll get on about next, however LED headlights and OLED taillights are part of the Prestige package.
Mythos Black Metallic will run you another $595. It looks OK, but I'd spec it in a more interesting color like District Green metallic or Ultra Blue metallic, which are the only non-white/grey/black options (2022 models).

Interior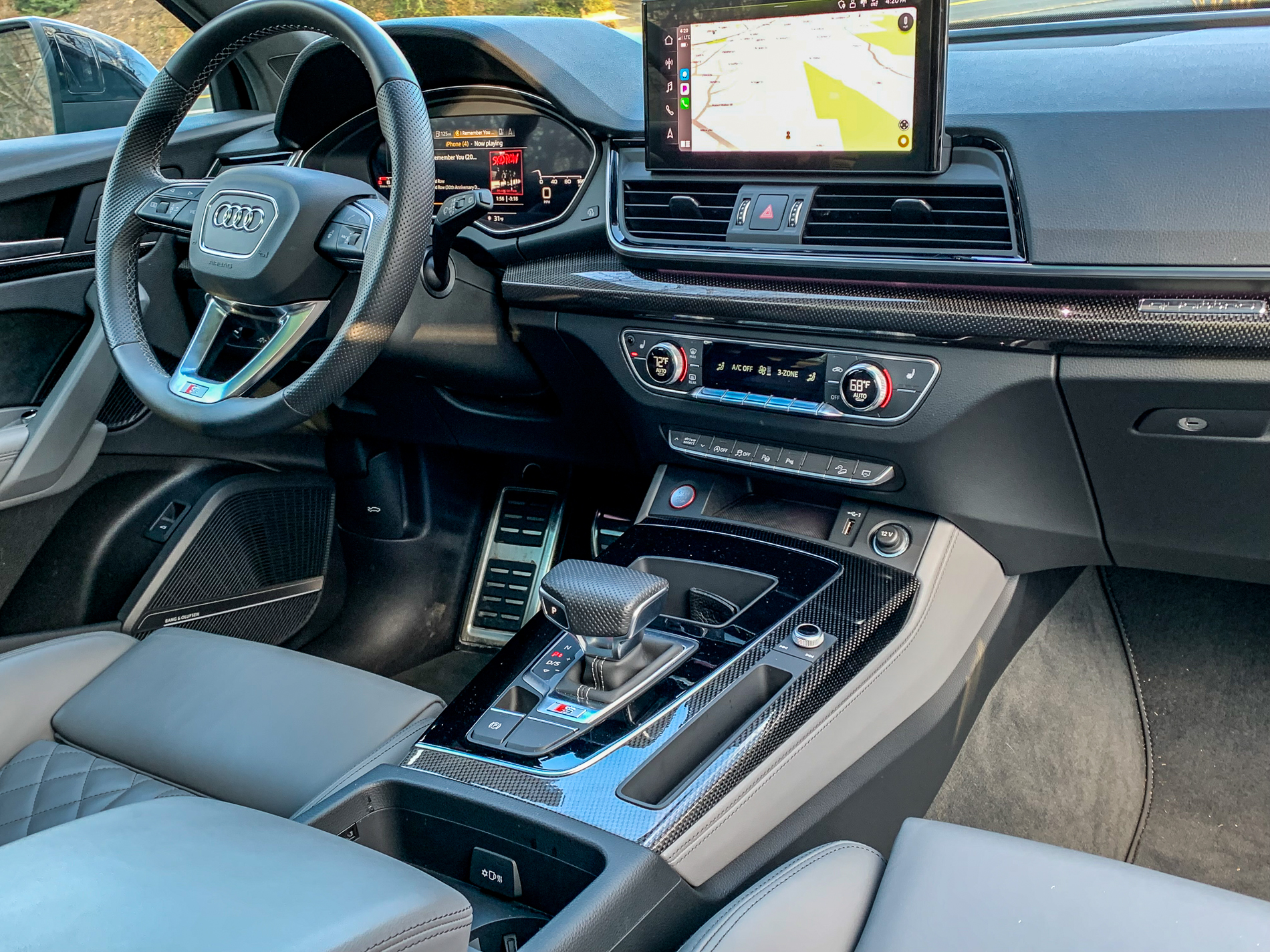 The real beauty of the SQ5 is on the inside. You'll get the typical quilted leather seating, though noticeably absent was the massage feature. Having experienced it on previous Audis, and being old enough to crave it, I was hoping this tester had it. Still, the SQ5 was massively comfortable to spend a week with.
From a tech perspective, the SQ5 feels fairly modern and well laid out considering it's part of the second generation (80A) that has been around since 2018. I'm not so sure about the volume level being positioned so far away, but at least it has one. As always, the Audi Virtual Cockpit pretty cool, though other automakers systems are catching up. Audi created a very nice spot for cell phone stowage, and while it has wireless charging, it didn't charge my phone fast enough while using the Bluetooth based CarPlay. So I ended up using the old school cable. Still, the overall infotainment system worked pretty well, the over the air Apple CarPlay was pretty reliable and stayed connected.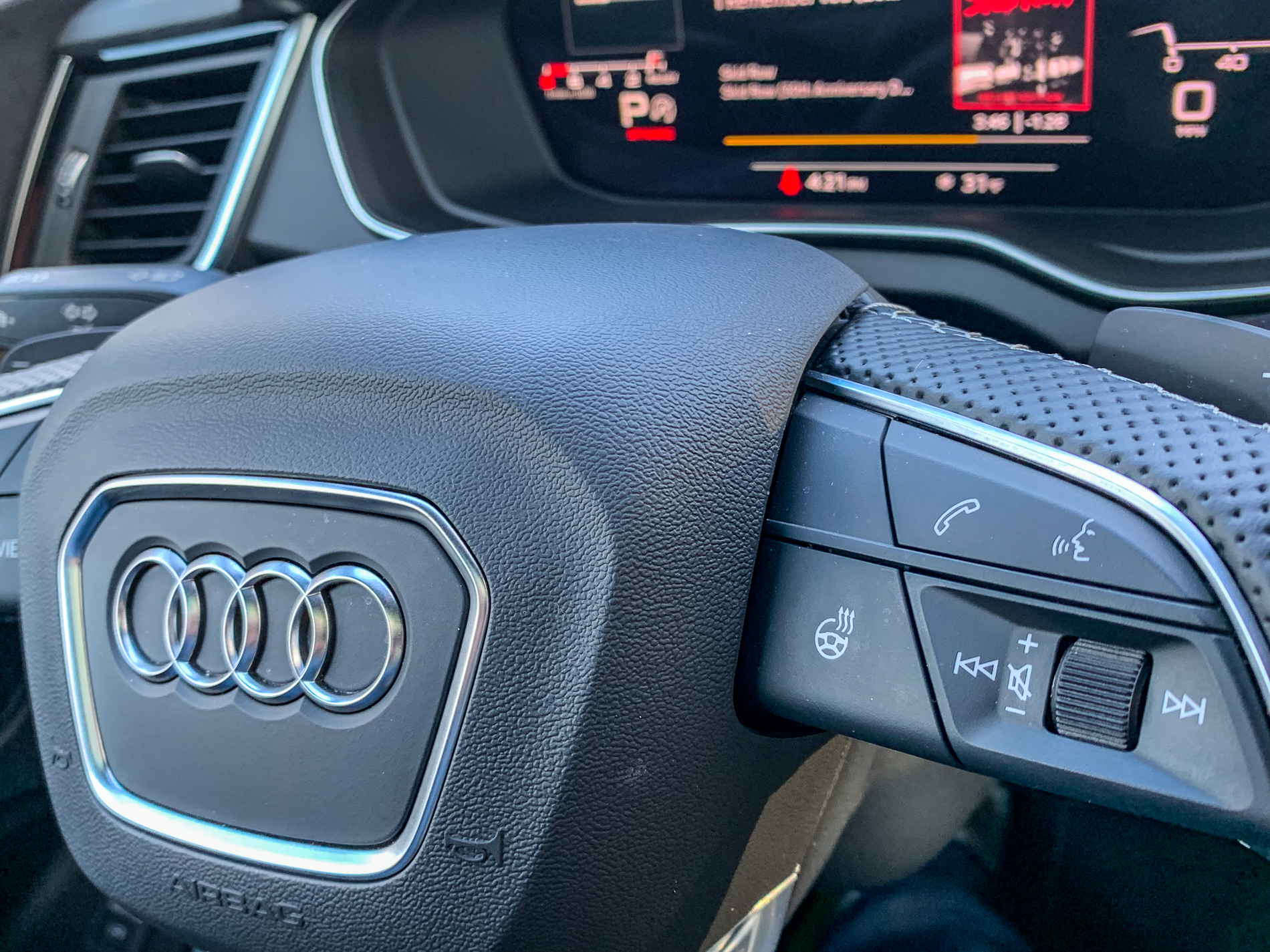 Oh, and I absolutely love the cooled and warmed cupholder. It works fantastic and was a nice addition.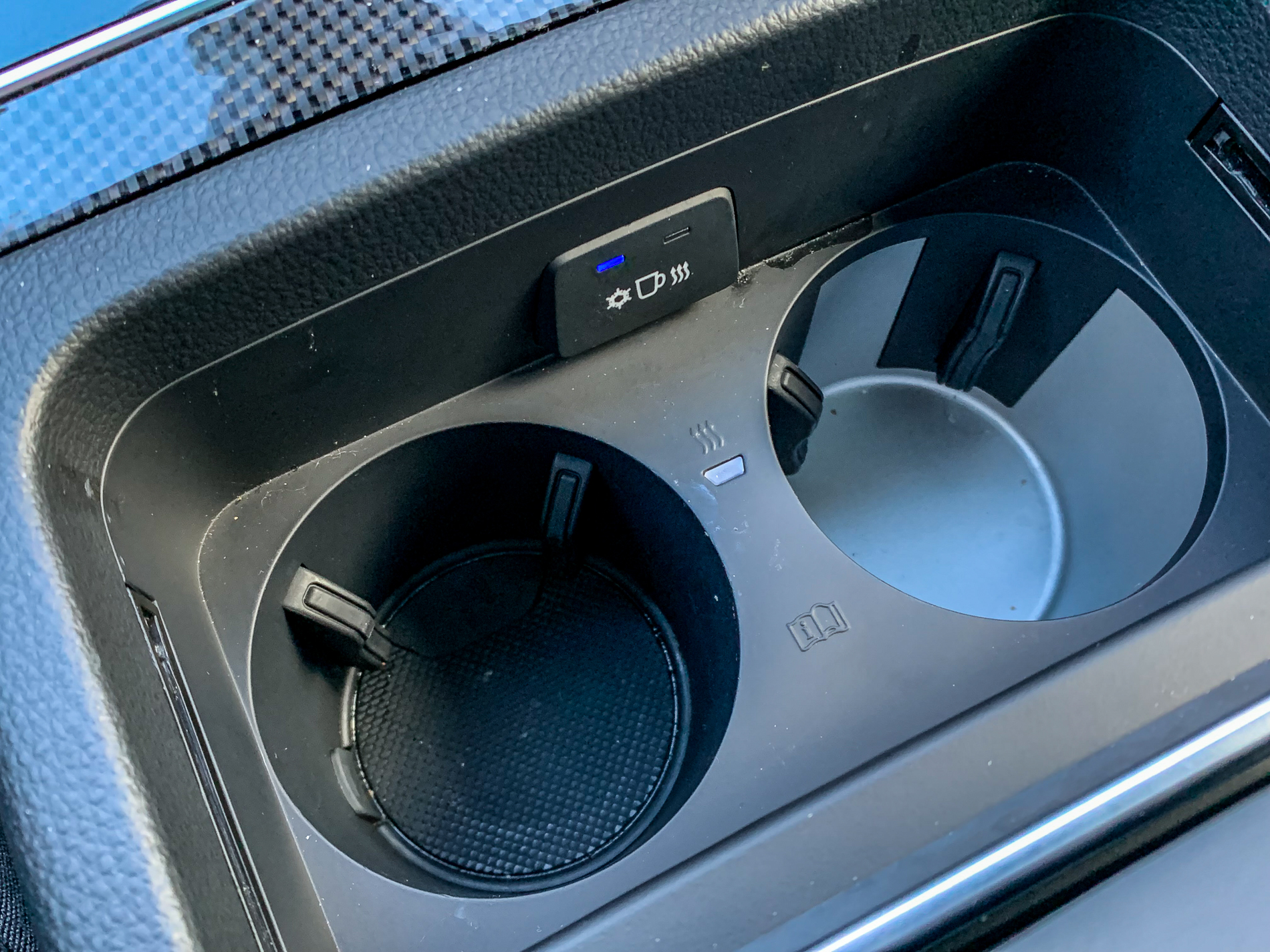 You get a respectable 24.7 cu. ft. of cargo space behind the rear seats. It's more than enough room for daily driving and hockey practice while being a bit less than the regular SQ5 (25.6 cu. ft.). So, there are some space compromises after all for the coupe-lover. Meanwhile, rear seat room comes in at 38 inches. Not a lot, but enough, and identical to the non-Sportback.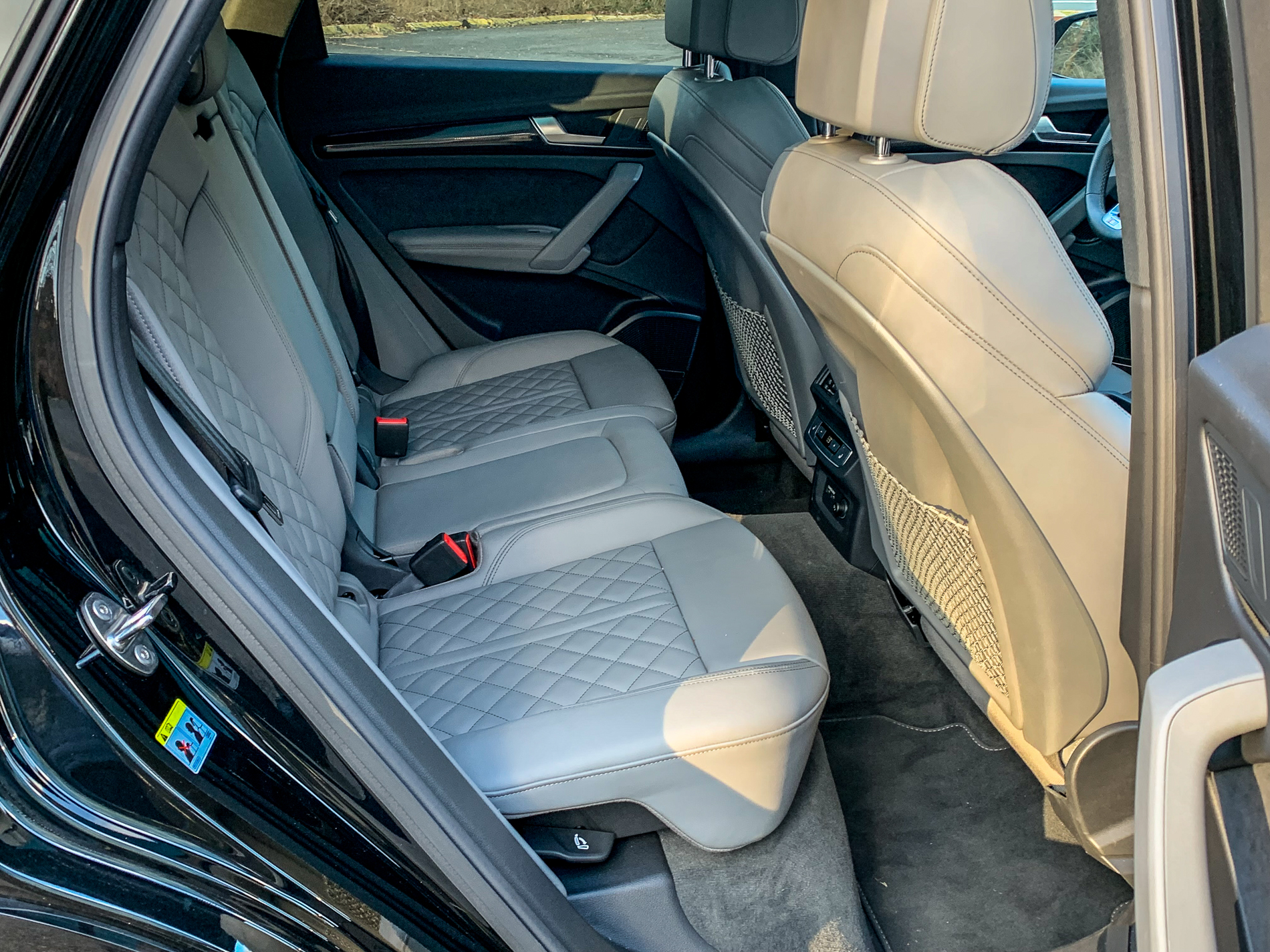 Driving
The idea of getting the SQ5 over a regular Q5 comes down to one major thing, performance. You can spec a regular Q5 to be comparably comfortable, but it's not going to be nearly as fun to drive. The engine and exhaust sound really good, I loved the little pops and burbles over the overrun. The trip to 60 mph takes a scant 4.7 seconds, which is almost full second quicker than the base Q5 but slightly slower than the non Sportback SQ5 (4.5 seconds).
Plus, in a world with primarily rotary shifters, I actually like the short stumpy shifter. The low flat top falls easily to hand and provides a nice spot to rest your hand while driving.
Handling is impressive, with Quattro-assisted traction in just about any situation. The MLB platform-mate Porsche Macan is just a bit more entertaining through the bends, but the SQ5 will handle the basics with a solid lean towards "wow, that was fun".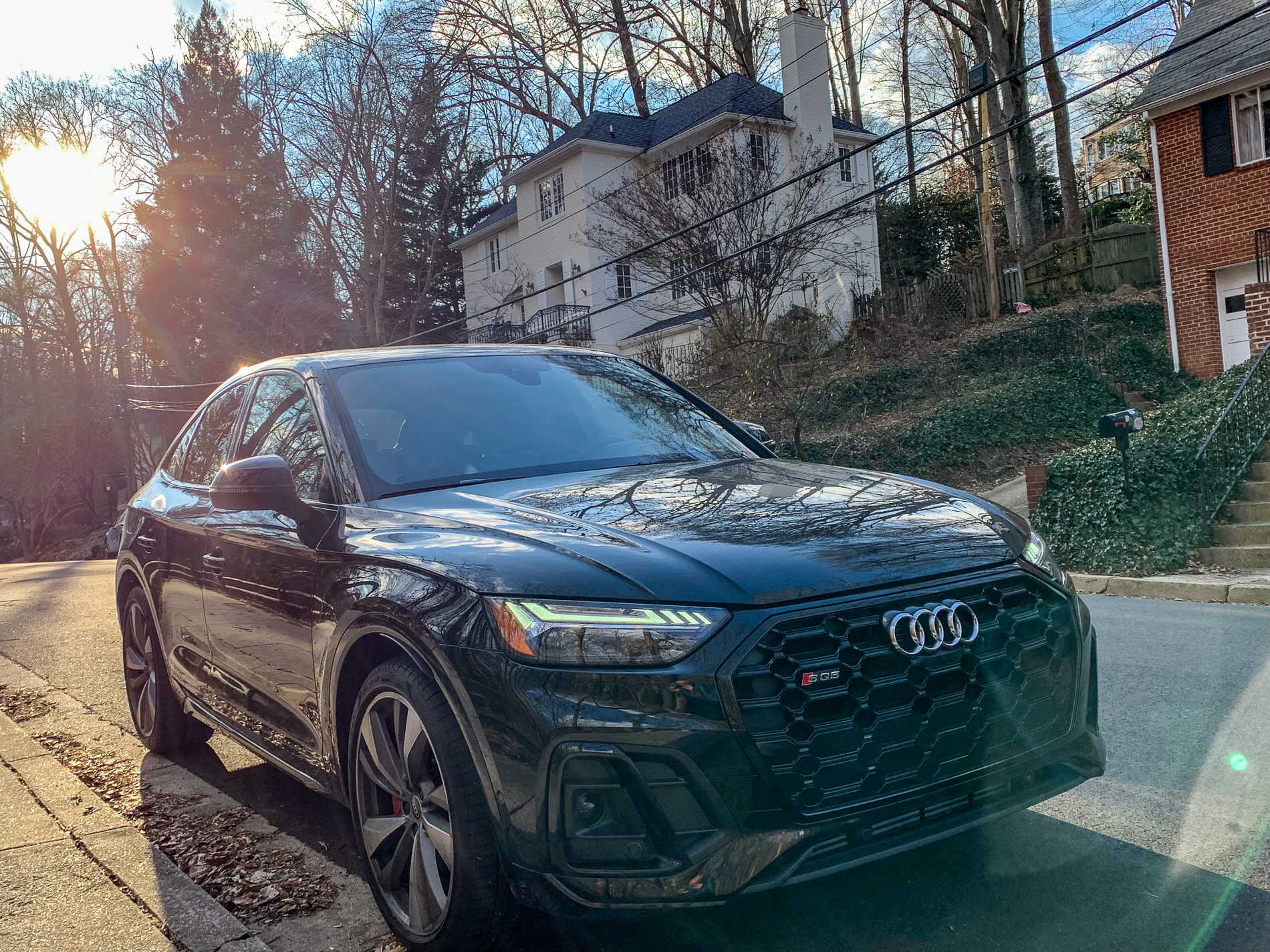 Summary
I won't pretend that the SQ5 Sportback Prestige is an inexpensive vehicle. At near $74,000 it's a lot of cash for a compact crossover. However, base-model to base-model, it's a lot cheaper than the latest the BMW X3 M, the Porsche Macan Turbo, and Mercedes-AMG GLC-class. Though it's considerably down on power in comparison, the SQ5 Sportback delivers that sporty SUV feeling, with a coupe-ish profile.
If you're into that kind of thing. I am.