Whatever happened to small trucks? When I was a kid they were everywhere. The first time I experienced donuts in an empty parking lot covered in snow was in either a compact Toyota or B-Series Mazda. Thanks Dad, that is still a good memory. Then, after the mini-truckin movement came to and end, "poof" they were gone.
The midsize truck is still going strong. Toyota sells the Tacoma, Ford brought back the (now larger) Ranger, GM has multiple options, and Honda has the Ridgeline. So, buyers have been missing out by not having a compact truck option. Until now. Meet the Maverick. Is this new compact *audible gasp* front wheel drive CVT hybrid Ford truck any good? Let's check it out.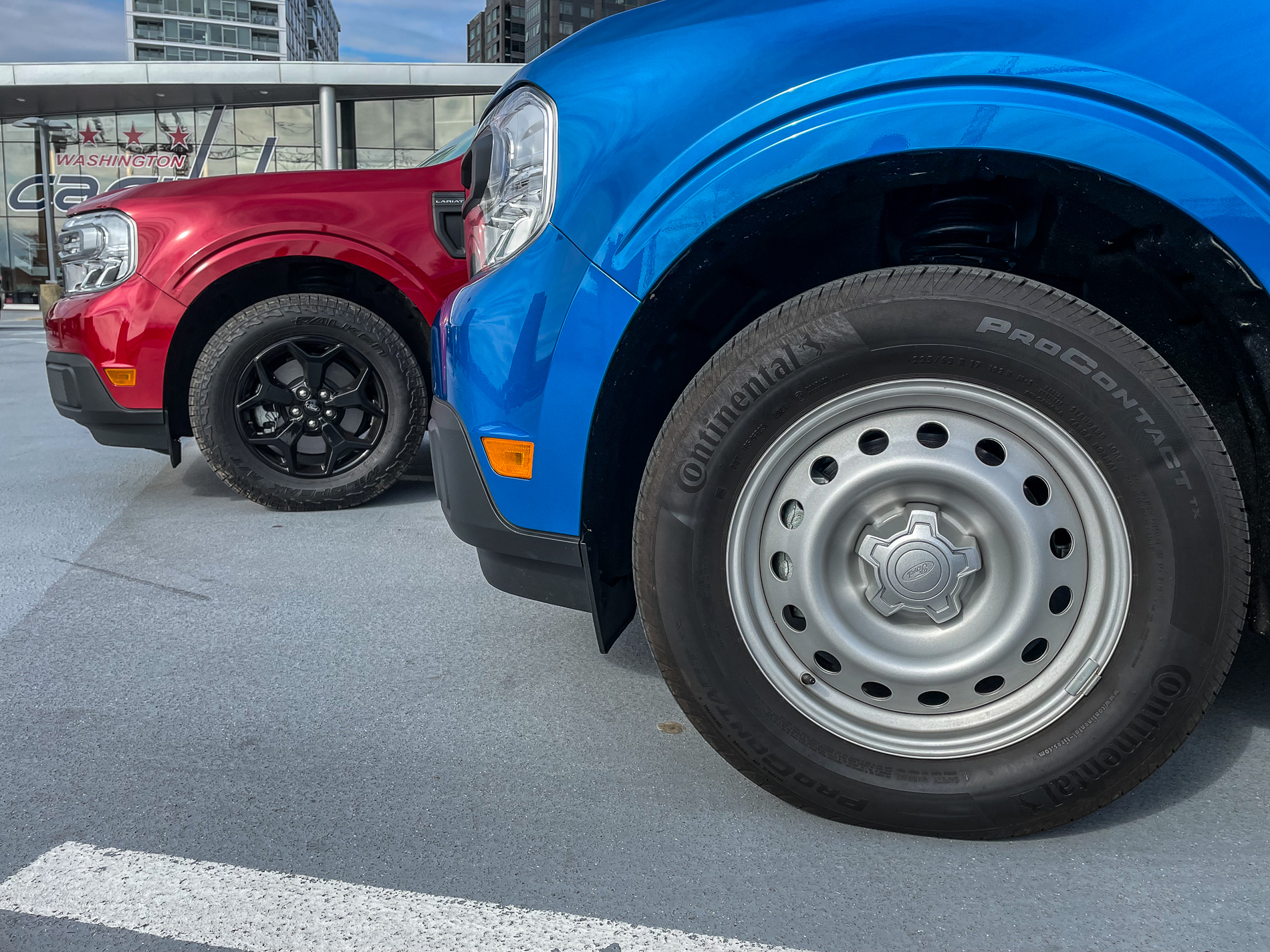 2022 Ford Maverick Overview
Enthusiasts have been clamoring for a small truck for some time, but we all know that the stuff we blather on about isn't always what sells. It's usually the opposite. Ford went and built one, and they can't keep them on dealer lots so far. The base XL, like our tester technically starts at just under $20,000. Well, that is sans destination and delivery ($1,495) plus whatever "adjusted dealer markup" may be in play currently. I've watched friends on Twitter attempting to purchase one without a markup and it's not pretty. $10,000 over sticker isn't uncommon.
But, kudos to Ford for trying. If you want to ramp up the features beyond the XL, you can opt for the XLT and Lariat, both of which sit below the $23,000 and $26,000 mark respectively. All three have the option of the standard 2.5L hybrid (CVT automatic) or optional 2.0L EcoBoost (8-speed automatic) engine. However, if you want AWD ($3,305) you have to go with the 2.0L non-hybrid for now. Our tester had a total of $0.00 added to its window sticker, which may be the first time in my press loan career that has happened. This is literally the base model with no options, which is fantastic since many buyers may be tempted by that low starting price.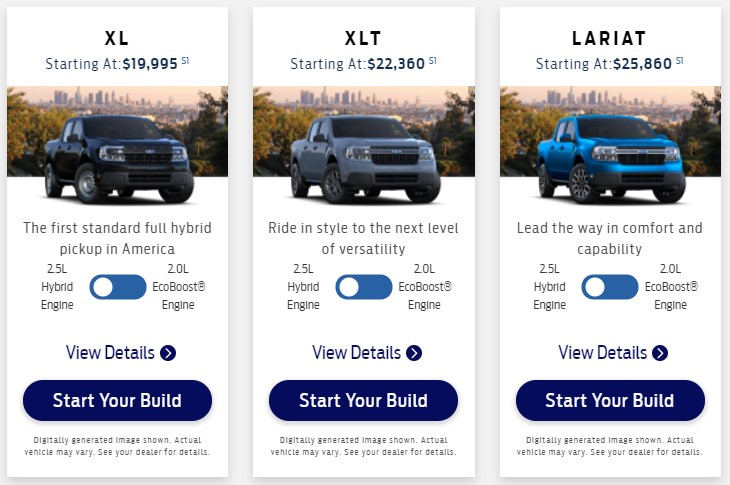 For comparison, the XLT adds standard stuff like:
Upgraded wheels
Cruise control
Upgraded upholstery
Rear armrest in the center with cupholders
Locking tailgate (power)
Meanwhile, the top trim Lariat adds features like:
Simulated leather upholstery
Dual-zone automatic climate control
Keyless entry with push-button start

Power-adjustable driver's seat

Power-sliding rear window
Rear-seat USB ports (2)
Ford will offer to sell you a ton of options, including the Lariat Luxury package ($3,750), 4K Towing package ($745), FX4 Off-Road package ($800), and Ford Co-Pilot360 package ($650). Dive deep into the configurator and you'll find tool boxes, tonneau covers, bed caps (and bed extenders, bed nets, bed liners, etc.), and more. It's clear that Ford is quite savvy on what aftermarket good may be produced and sold for the Maverick and is looking for a cut. But, you can make your own add-ons for the Maverick, more on that in a bit.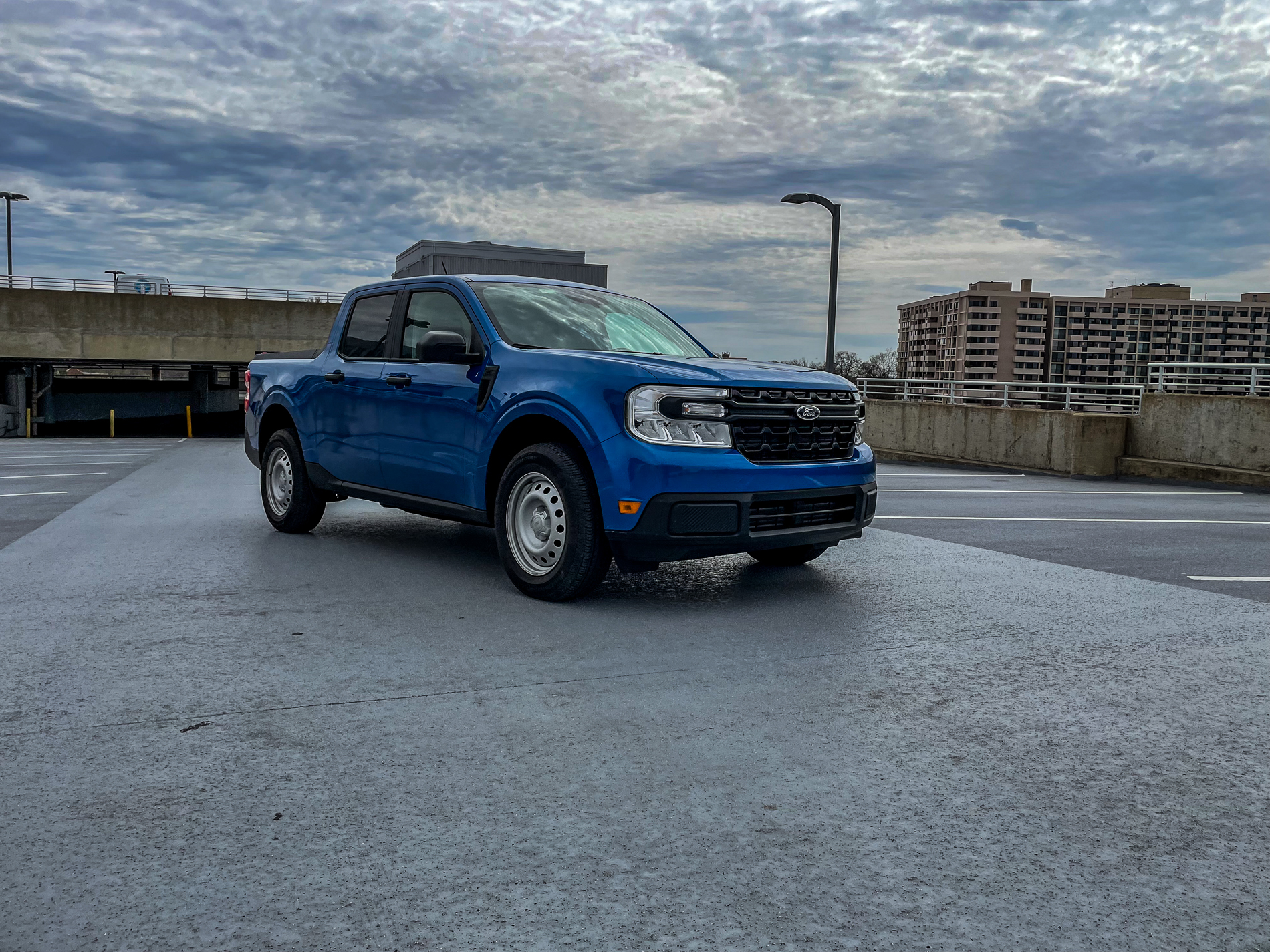 Exterior
The Maverick is adorable, seriously look at that face. It looks like an excited puppy (but one with standard LED headlights). I love the proportions, even in base XL trim it manages to look both small but beefy. Plus, Velocity Blue is a fantastic color. And steelies, come on that's cheating. Love!
From a dimensions standpoint the Maverick is just over eleven inches shorter (less long?) than a similar trim Ranger. Its also 2.3-inches narrower, 2.4 inches shorter (less tall?), and has a smaller wheelbase by 5.7 inches compared to a 2022 XL Crew Cab Ranger. Ground clearance is almost identical (8.4 inches for the Ranger vs. 8.3 inches for the Maverick).
So little truck is little, got it, but let's dig deeper.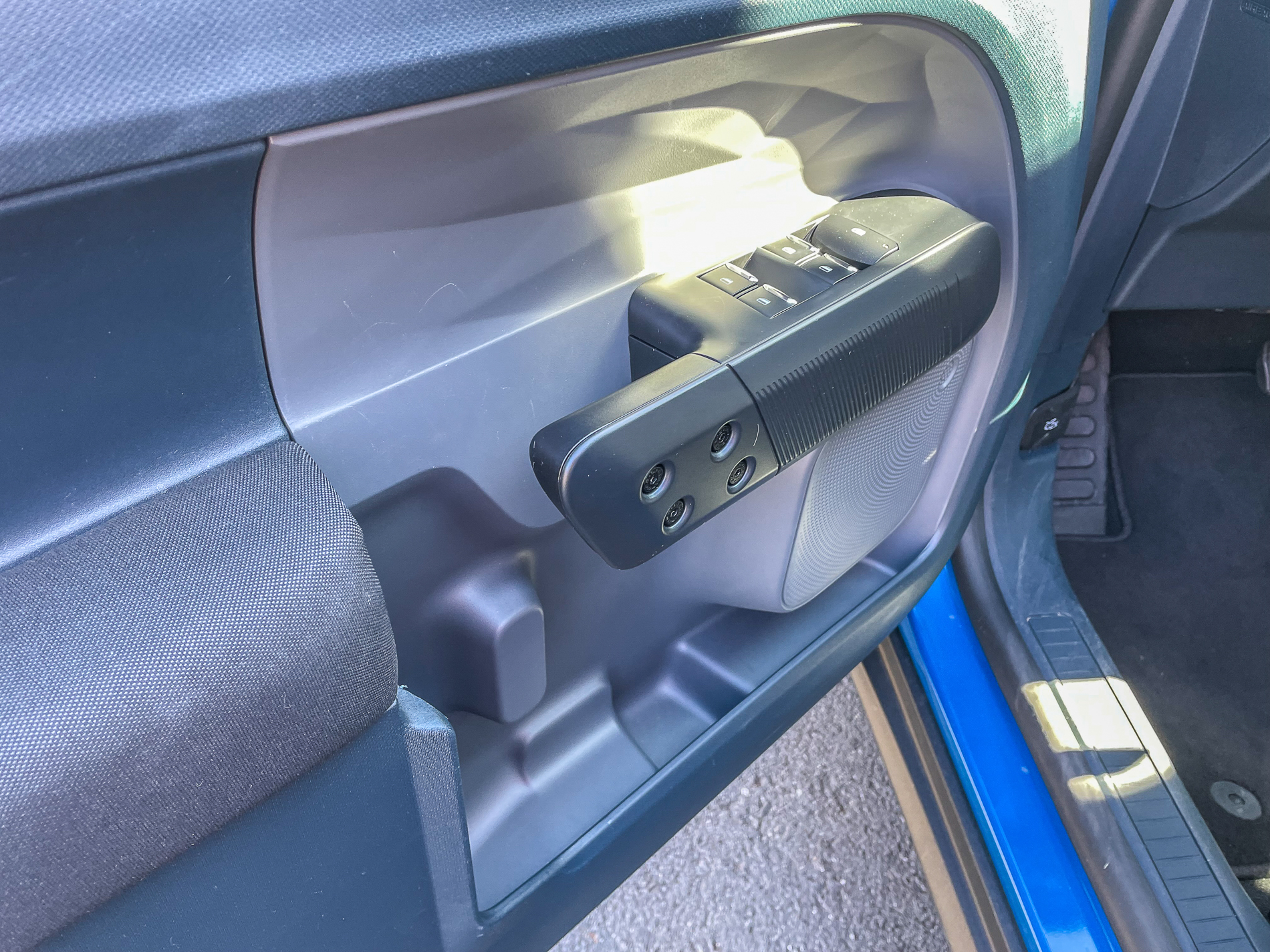 Interior
This is where it gets interesting, the Maverick actually has more generous interior measurements compared to the Ranger for things like front head room, front shoulder room, rear head room and rear leg room. The Ranger only comes out on top for front leg room (+0.3 inches) and rear shoulder room (+0.7 inches). I made a note about the head room in particular, at 6-feet I'm not especially tall but I noticed how much there was (40.3 inches compared to 39.8 inches in the Ranger)
So, small truck is small on the outside, but not on the inside. How about that.
It's not a short on standard features either (we used to call this zero-option base model a "stripper" but that's weird), it's quite well equipped. Even the XL gets standard interior stuff like power windows, air conditioning, and cool rear under-seat storage compartments. It's not shy on tech either with a standard eight-inch touchscreen with Apple CarPlay and Android Auto smartphone integration. The audio is pretty decent as well, the six-speaker stereo did a solid job at funneling a mix of 80s and 90s music to my untrained ears.
Sure, there are no power mirrors, but come on, how often do you actually change them? I guess it depends on how many people are driving the Maverick on a regular basis.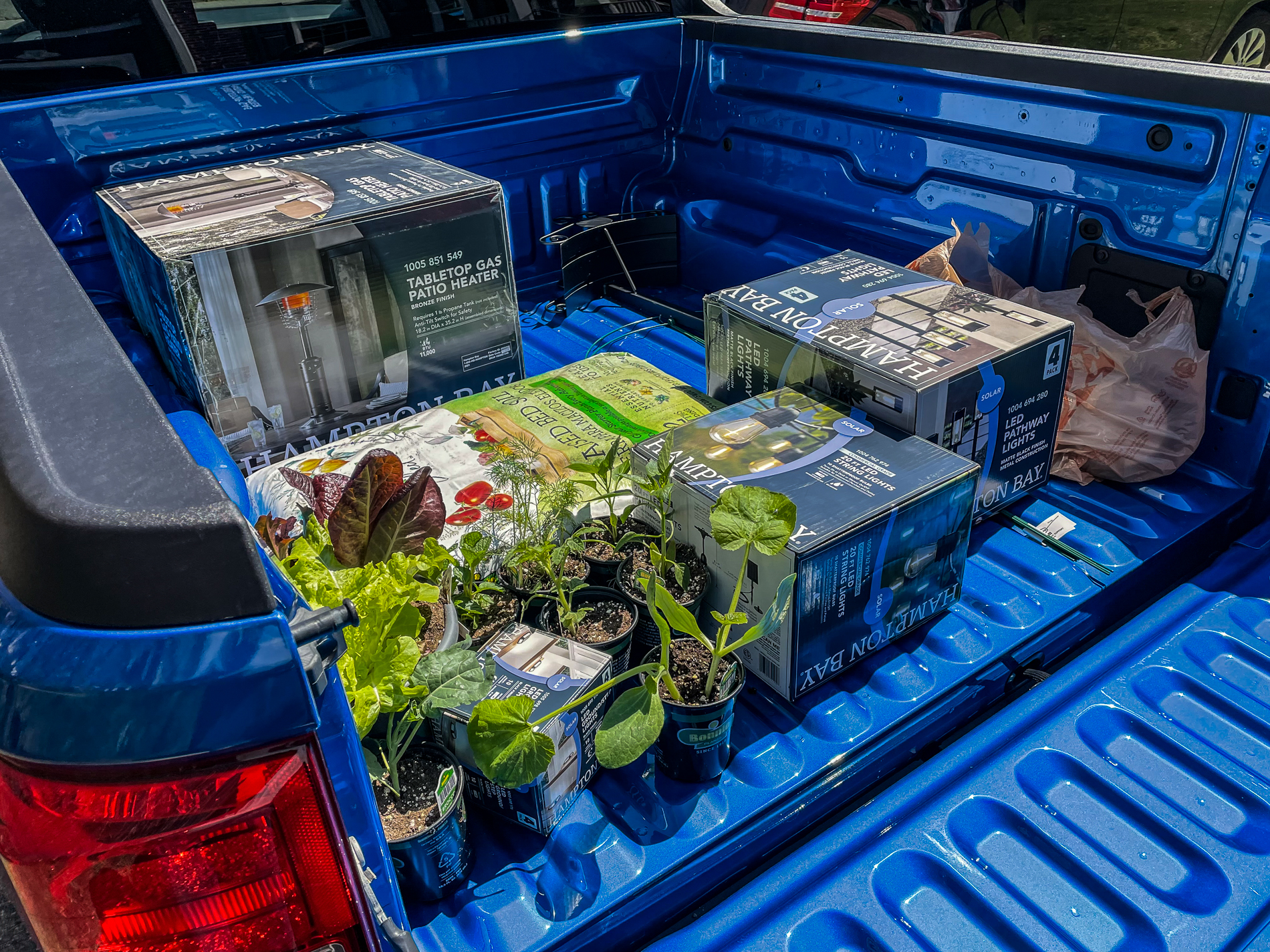 I tried to do my best to do some truck stuff. I even walked out of The Home Depot with way more than I showed up to get. It was some basic outdoor lighting and some greenery for the raised bed. I would have loved to have picked up some mulch, or moved for furniture but I pay people to do that now. Regardless, the 4-foot, six-inch bed, which has a payload capacity of 1,500 pounds will take care of most day-to-day jobs.
One of my favorite elements of the Maverick is the FIT or Ford Integrated Tether slots that (with an available accessory package) let you add storage bins, hooks, organizers and more. Plus you can download Ford's CAD files so you can 3D-print your own accessories! The Maverick is full of great little touches like this, it's clear that the folks at Ford put a lot of time into its design and engineering.
Driving
Out on the road, the ride in the FWD Maverick is a little bumpy but not enough to keep it from being a great daily driver. The XL's 2.5L four-cylinder gas engine and electric motor combine for 191 horsepower and 155 lb-ft of torque. At just 3,674 pounds (680 pounds lighter than an XL Ranger) it's enough for most driving situations. The 0-60 run of around 7.6 seconds isn't that sprightly, but back in my sport compact days it would have felt fine. The real story is the EPA-estimated 42 / 33 / 37 MPG (city/highway/combined) rating. In these days of high gas prices it would be a great road trip companion with 580 / 455 miles of total range (city/highway).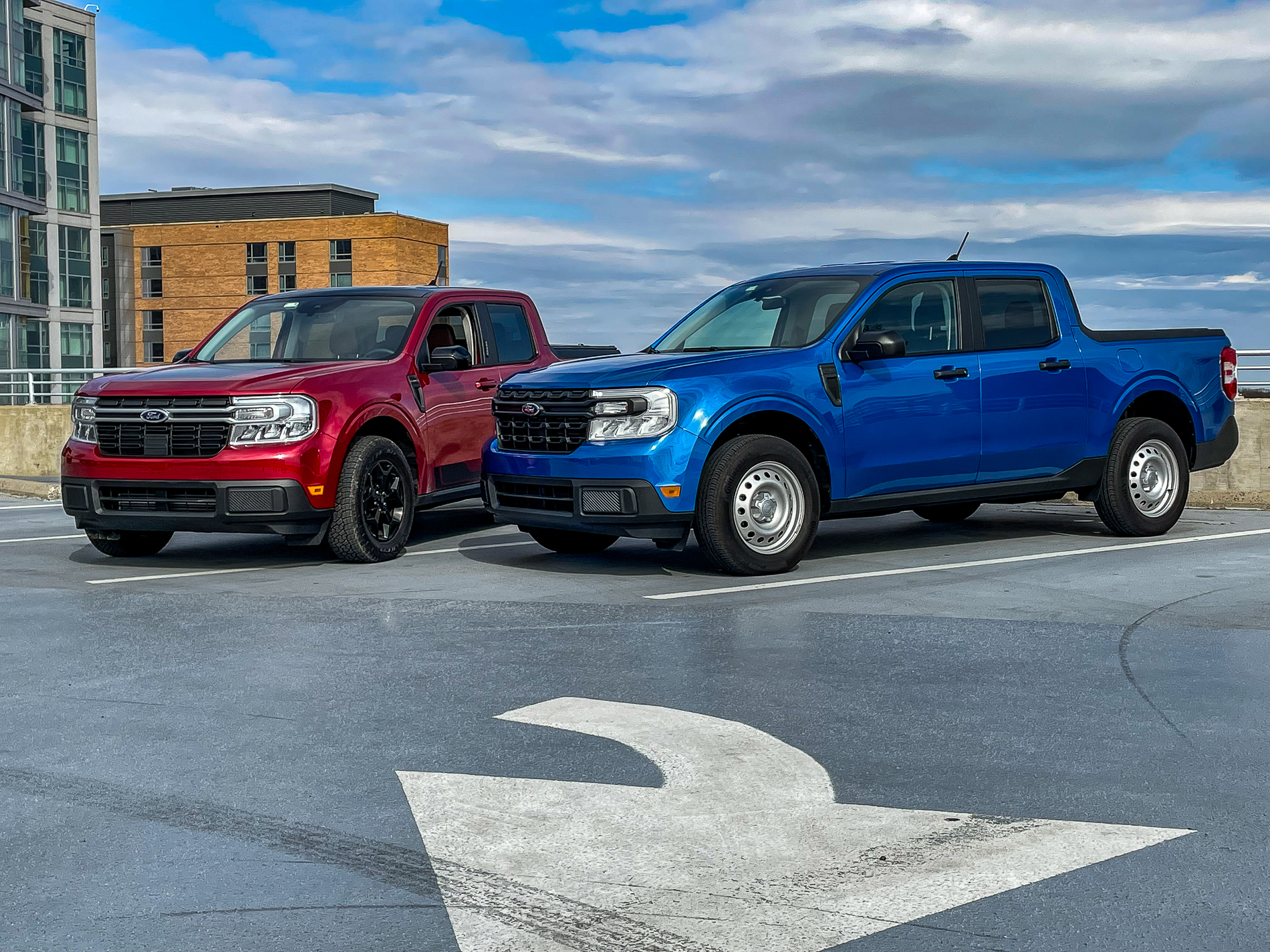 Which One Do You Buy?
I had an interesting opportunity with this Maverick loaner. My journalist colleague Jake Thiewes from Out Motorsports had a 2022 Ford Maverick Lariat EcoBoost loaner the same week and we got to meet up and compare them directly. You can read his review of that top spec $38,000 Maverick here.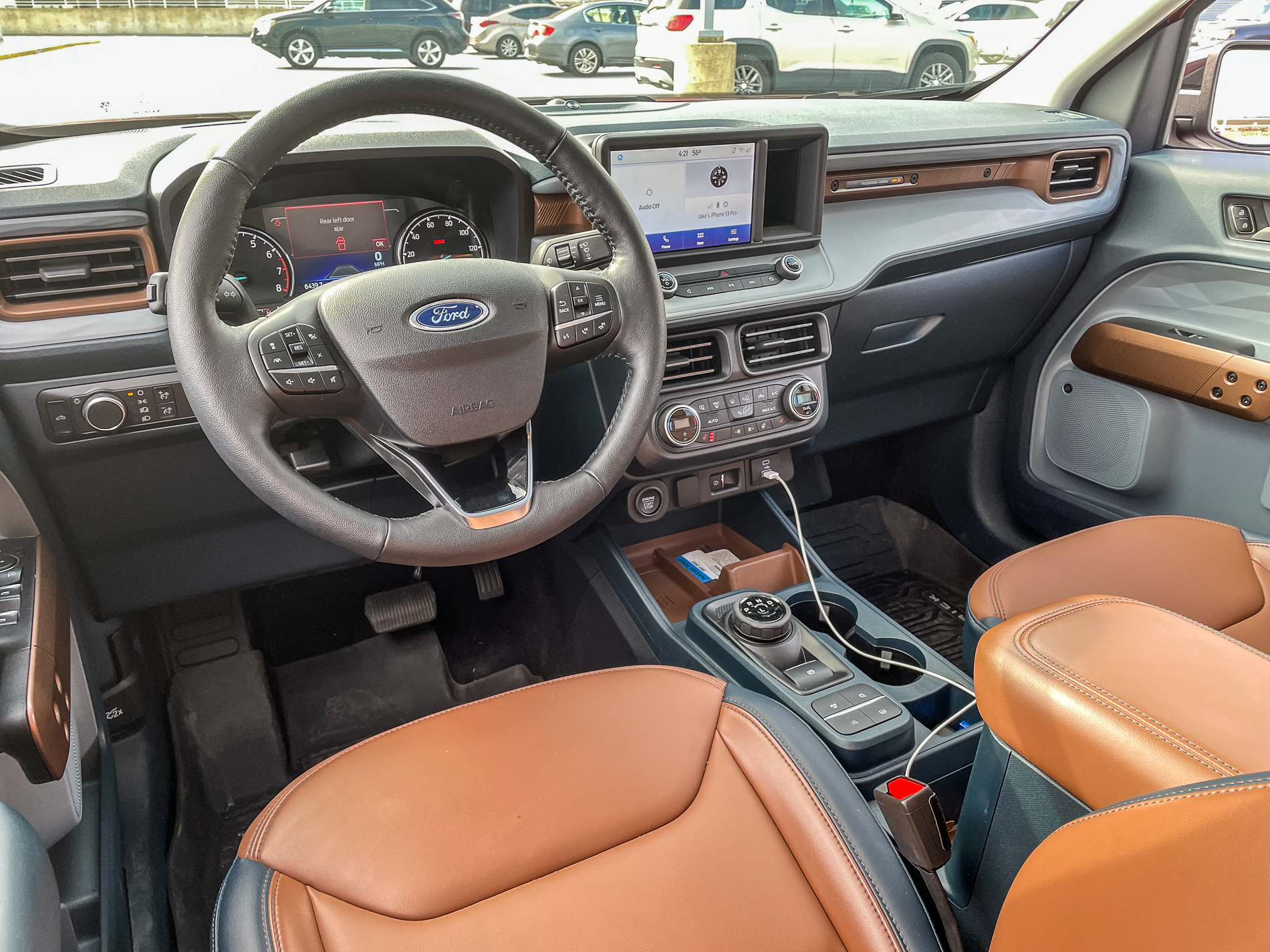 It was interesting to see just how similar they are considering the considerable price difference. The larger alloy wheels make the Lariat look larger, even though it isn't. As Jake and I walked around each truck, we didn't spot a ton of differences. Its interesting that the higher trim had obvious radar sensors placed in the front grille, the XL did not, but still has frontal collision warning. A majority of the upgrades are on the inside, with a more heavily optioned interior compared to the XL.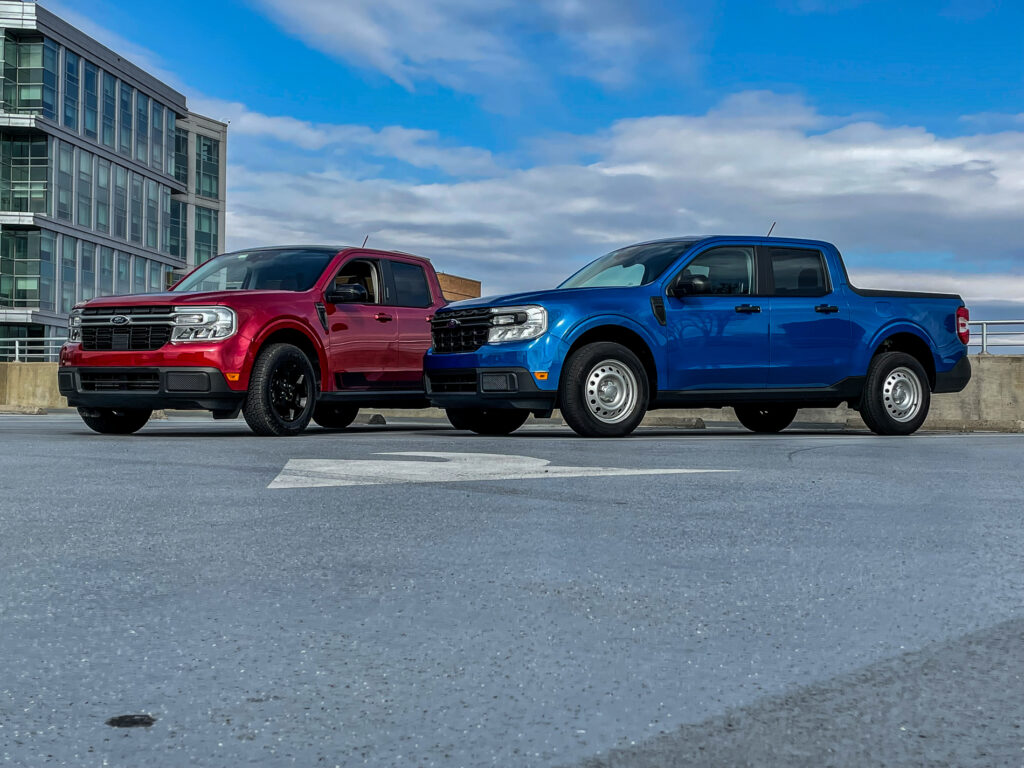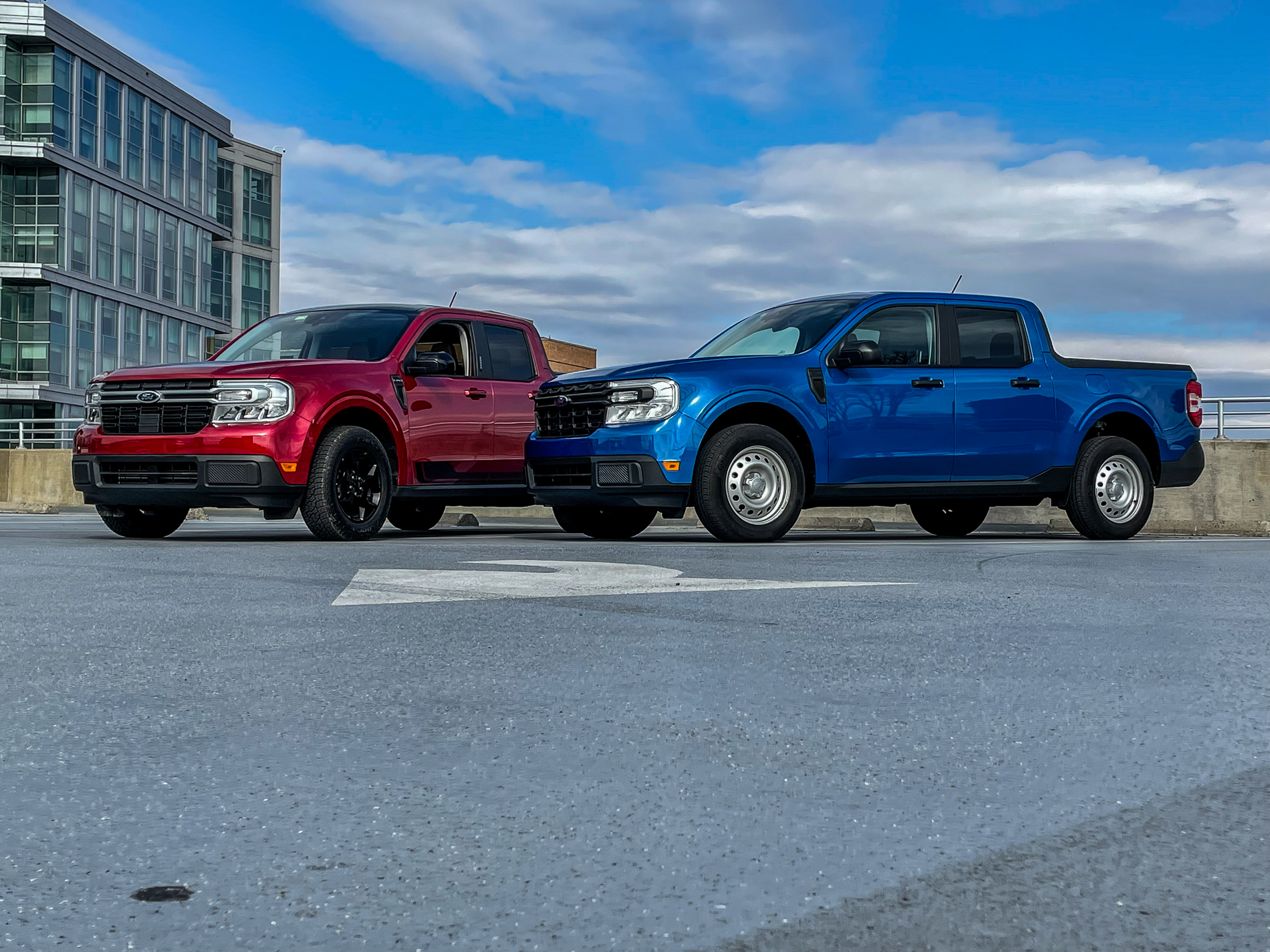 After spending time with it, I can't recommend the fully loaded Maverick. Like Jake, I like the idea of an inexpensive compact truck, and that's not it. However, I figured I would talk through my best Maverick recommendations for those looking to have that compact truck life. To start, you will need to choose between hybrid efficiency and AWD capability. At least for the 2022 model year, they shall not be combined on any trim level.
You may also be tempted by that turbocharged 2.0L four-cylinder EcoBoost as well. It produces a stout 250 horsepower and 277 lb-ft. of torques and is available in FWD and AWD layouts. You'll give up some MPGs of course, the 2.0L gets an EPA rating of 23/30 mpg with FWD, and 22/29 with AWD. The AWD Maverick's add independent suspension as well, which I'm told flattens out the ride a bit.
I think the trade-offs for fuel efficiency are worth it to get AWD and the option to to some towing. So, my ideal Maverick build is basically the XL I had on loan but with AWD, the EcoBoost engine, and the 4K towing package in Velocity Blue, with nothing else.
PRICING SUMMARY
BASE MSRP $19,995
OPTIONS & ACCESSORIES + $4,050
DESTINATION CHARGES + $1,495
TOTAL MSRP = $25,540
ESTIMATED NET PRICE = $25,540
For just over $25,540 you would end up with an AWD sporty truck that can still do truck things like towing. The 4K towing package, as the name implies, can tow up to 4,000 pounds. I'd be tempted to then try and remove some utility and make it look like this recent Maverick SEMA build by Tucci Hot Rods. Swoon!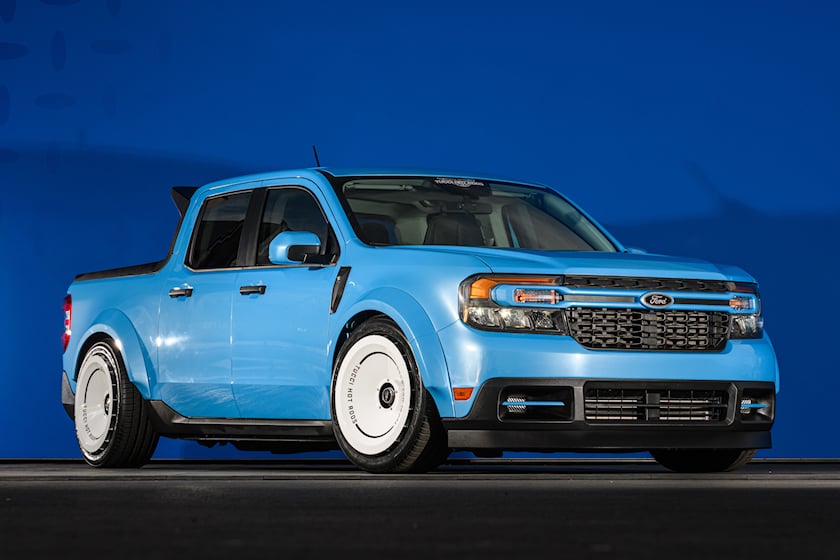 Summary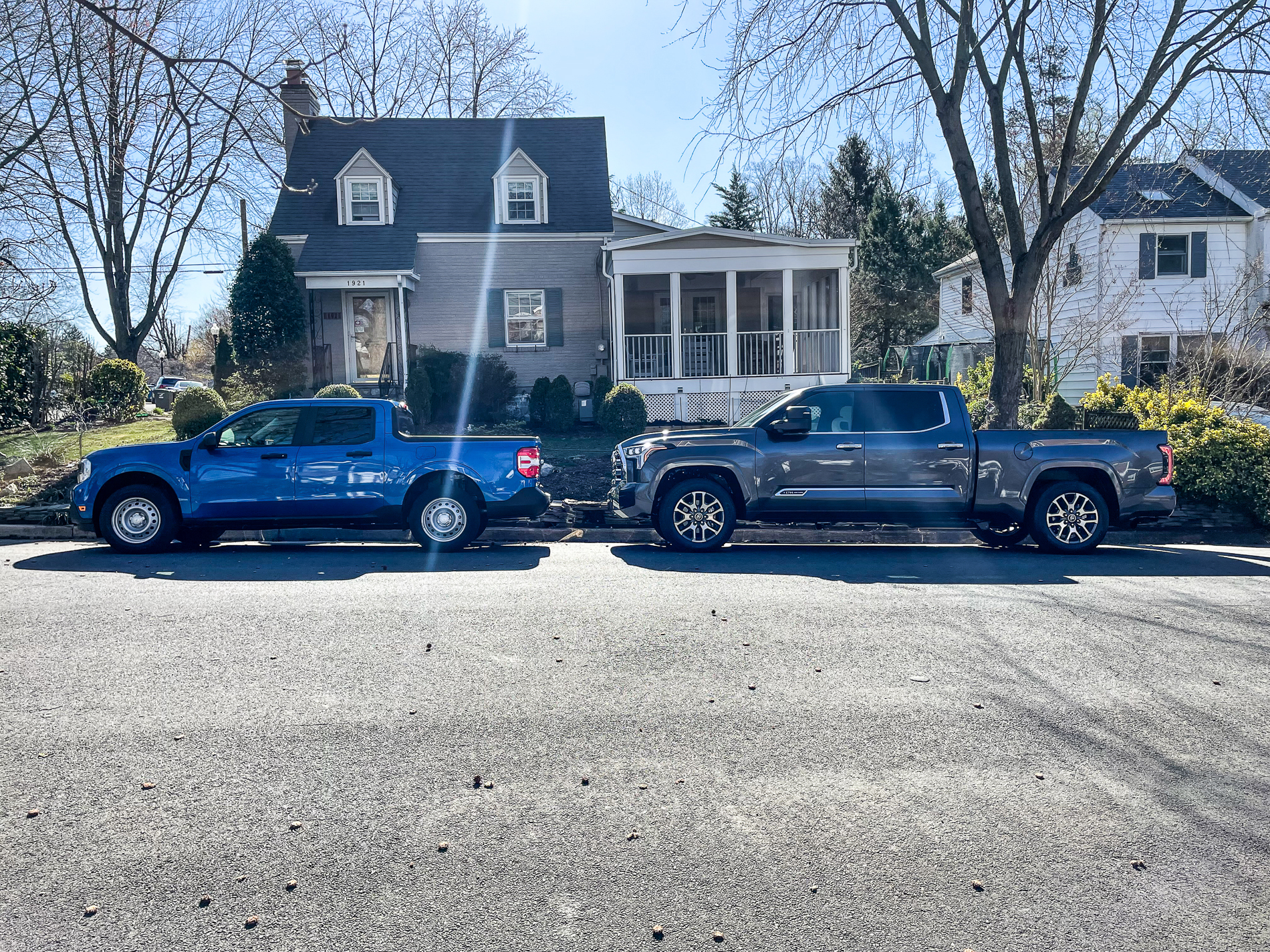 That first story I started this review with has an ending, my Dad ended up moving out of compact trucks and ended up with a Ford F-150. I'm not sure if he needed the utility and size (likely not) but it was the direction that trucks went.
Larger. Heavier. Less efficient.
Today we are hopefully seeing thing swing back the other direction. And with Ford noting that a 2nd pickup in the lineup will get electrified after the F-150, I'm banking on it being the Maverick. Imagin a cute little EV Maverick. Other automakers are starting to look at the compact truck as a viable option as well. The Hyundai Santa Cruz is on sale currently at a starting price of $24,440 for the base SE trim.
Will the Maverick be the start of a great compact truck resurgence, or will people revert back to old habits as soon as gas prices drop? Regardless, the 2022 Maverick is a fantastic truck, even in it's most basic trim level.