I recently said out loud that basically "all new cars are good". Some of my Weird Car Twitter friends out there may disagree, likely pointing to some 20 (30?) year old beater as the pinnacle of motoring. But, I stand by the notion that between performance, functionality, and technology there really aren't bad cars being made anymore. So, in order to get the "fizzy feeling" that James May has referenced, a car needs to be able to stand out in the crowd. So, when I saw "2022 Lexus LC 500 Convertible" pop up on my press loaner schedule I was indeed excited. Let's see if this Lexus convertible will get you fizzy enough to justify a $106,000 price tag.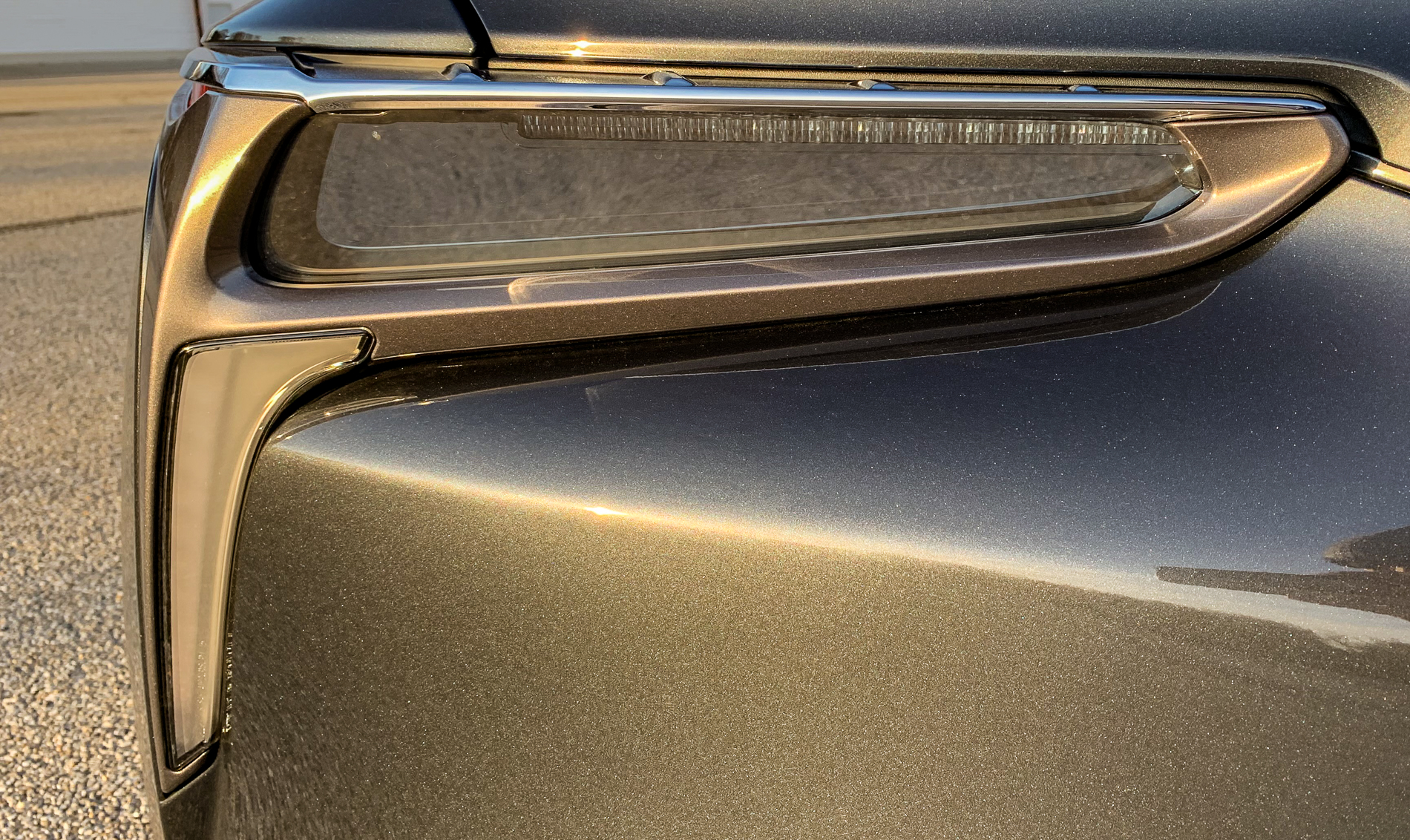 LC 500 Overview
OK, I'll admit to an embarrassment of riches here, this is the third time I've reviewed the LC 500. I first reviewed pre-production version for Doug D. over at Oversteer and then got a go in the gorgeous 2021 Inspiration Series convertible for Hooniverse. While the 2022 isn't drastically different from either of those two cars, I've tried to focus on the little details that a prospective LC 500 buyer might be interested in. But first, let's delve a little deeper on Lexus' current halo car.

The LC comes in two primary flavors, the LC 500h hybrid and V8-powered LC 500. No offense to whoever is intrigued by the $100,225 hybrid and its 354 horsepower, but the V8 version is where it's at. Two turntables and a microphone. If you are looking for something more specific, there is a Bespoke Build option which unlocks some options in the LC build sheet.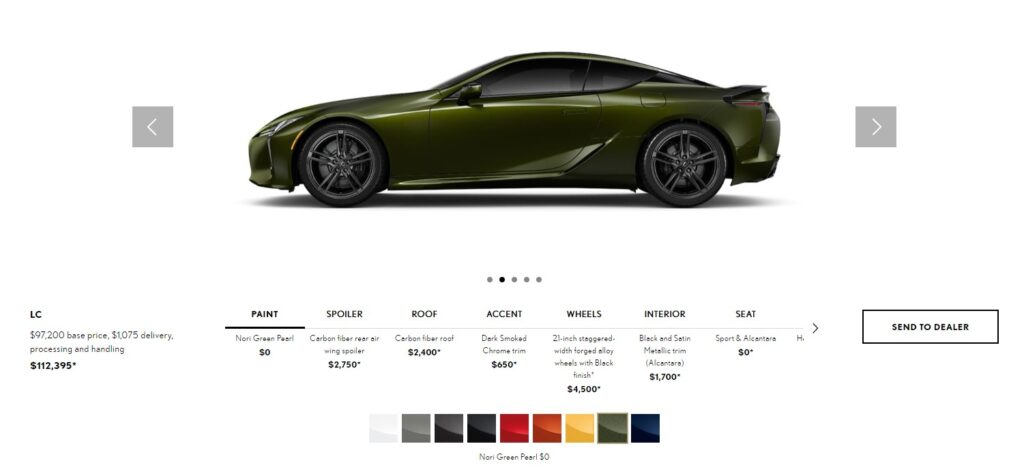 Back to our loaner, Lexus opted for Smoky Granite Mica paint and a Sand colored soft top. Inside it's Toasted Caramel leather and Satin Metallic trim and the only options are a $2,650 set of 21's and a $1,220 stereo upgrade. Here, check it out.
All in at $106,045.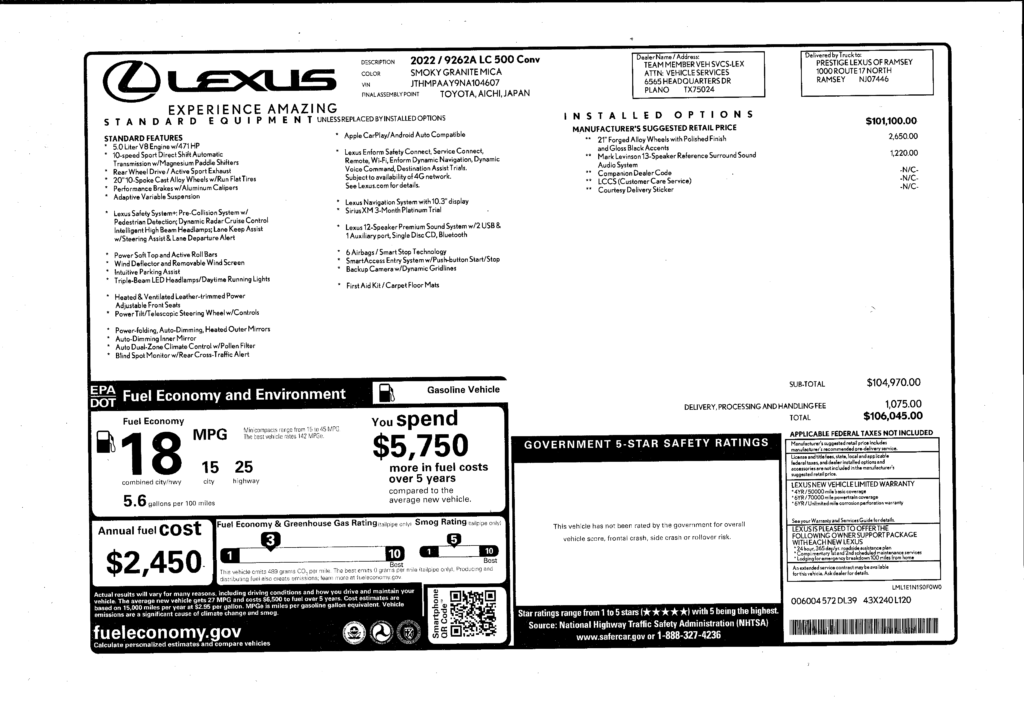 As bougie as it sounds, I'm used to our loaners coming with all of the options. Surprisingly there are other options available behind our window sticker.
Touring Package – $7,940
Semi-Aniline Leather-Trimmed Front Seats
Climate Concierge With Upper Body Heating
Mark Levinson® 13-Speaker, 915-Watt Reference Surround Sound
Heated Leather-Trimmed Steering Wheel*
Windshield Wiper De-Icer*
Embossed Headrests
21-In Staggered-Width Split-Five-Spoke Forged Alloy Wheels With Polished Finish And Gloss Black Accents With Run-Flat Summer Tires
*Also part of the All-Weather Package ($250)
There also some ala carte options available for the LC convertible beyond the wheels and stereo upgrade.
Torsen® Limited-Slip Rear Differential And Yamaha® Rear Performance Damper ($460)
Head-Up Display ($900)
Carbon Fiber Door Scuff Plates ($600)
So, let's dig a bit further into the quirks and features of this Lexus. Wait, is that copyrighted?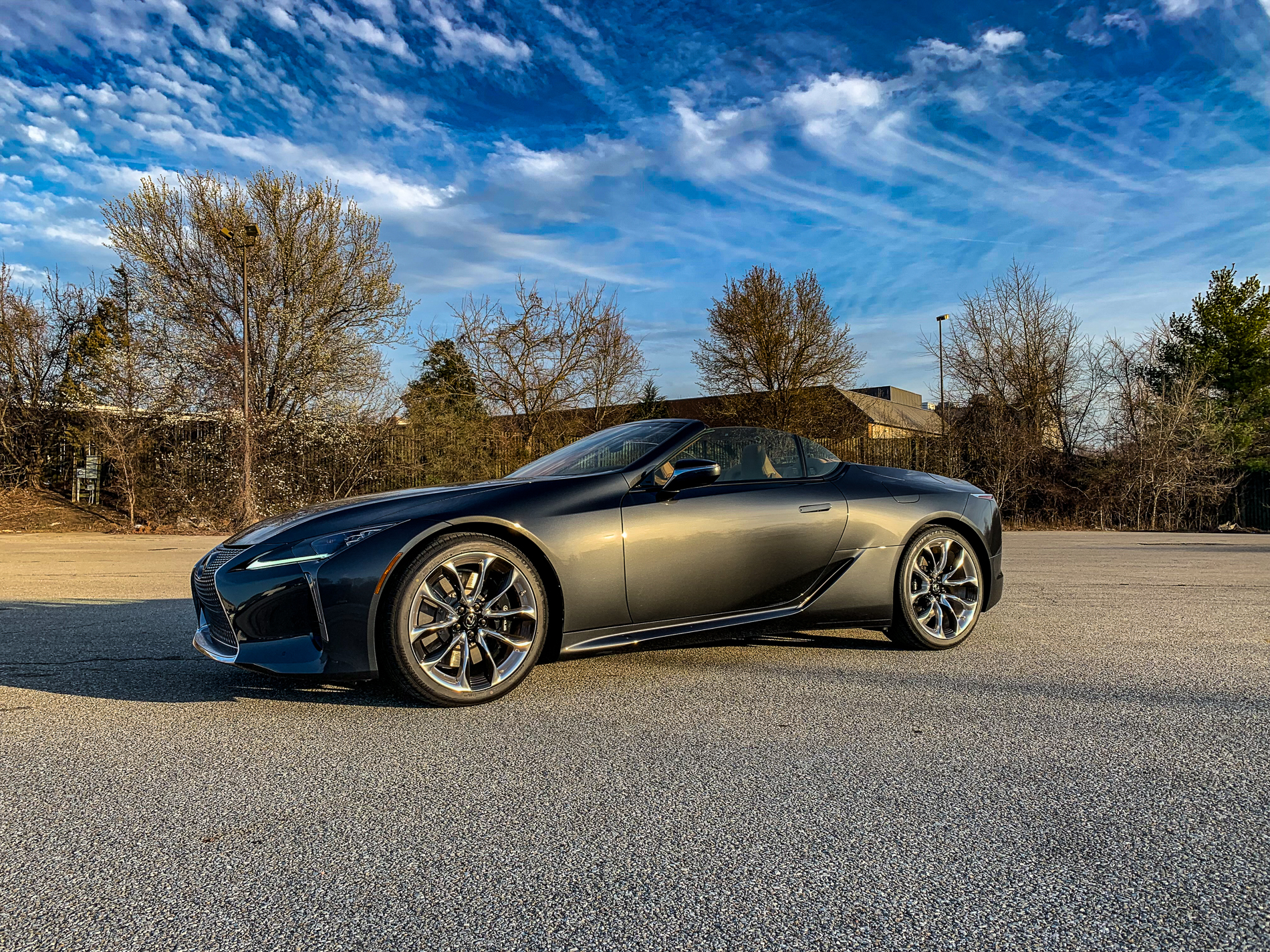 Exterior
The LC is a gorgeous car. If you disagree, you're wrong. OK, I admit the proportions aren't perfect from every angle. But its one of those "near as it makes no difference" situations where the overall affect is stunning. And while I wish this car was Nori Green (imagine that with the tan top and interior, hnnggg!) the grey and brown combo is pretty classy.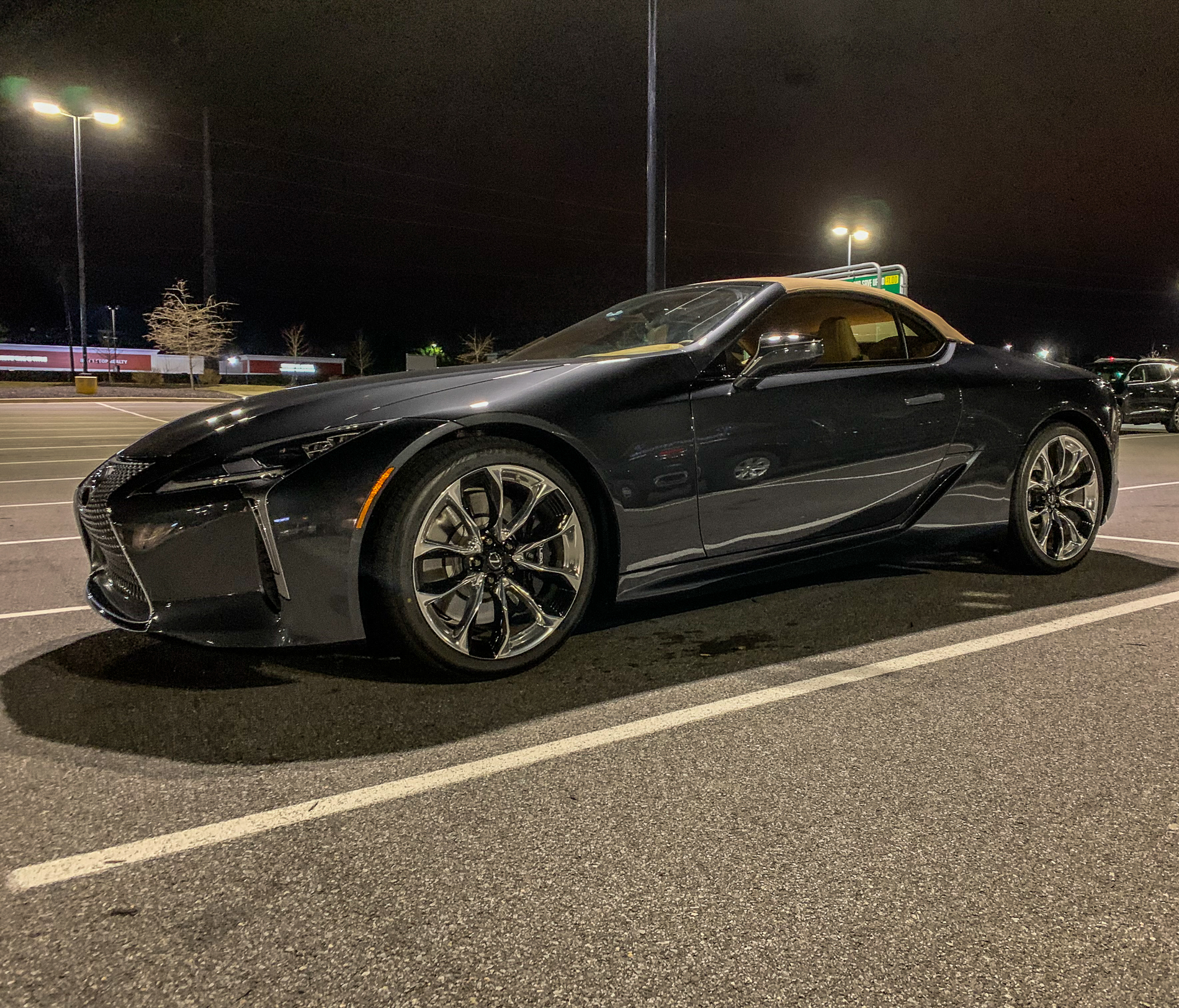 The 21-inch wheels look good and match the atmosphere of the grey and tan color scheme. Personally, I dig those staggered-width forged alloy 21-inch wheels that I added to my Bespoke Build, but they add $4,500 to the bottom line. Nevertheless, the LC gets a ton of attention. I had multiple people just walk up and say "wow, what is that?"
Interior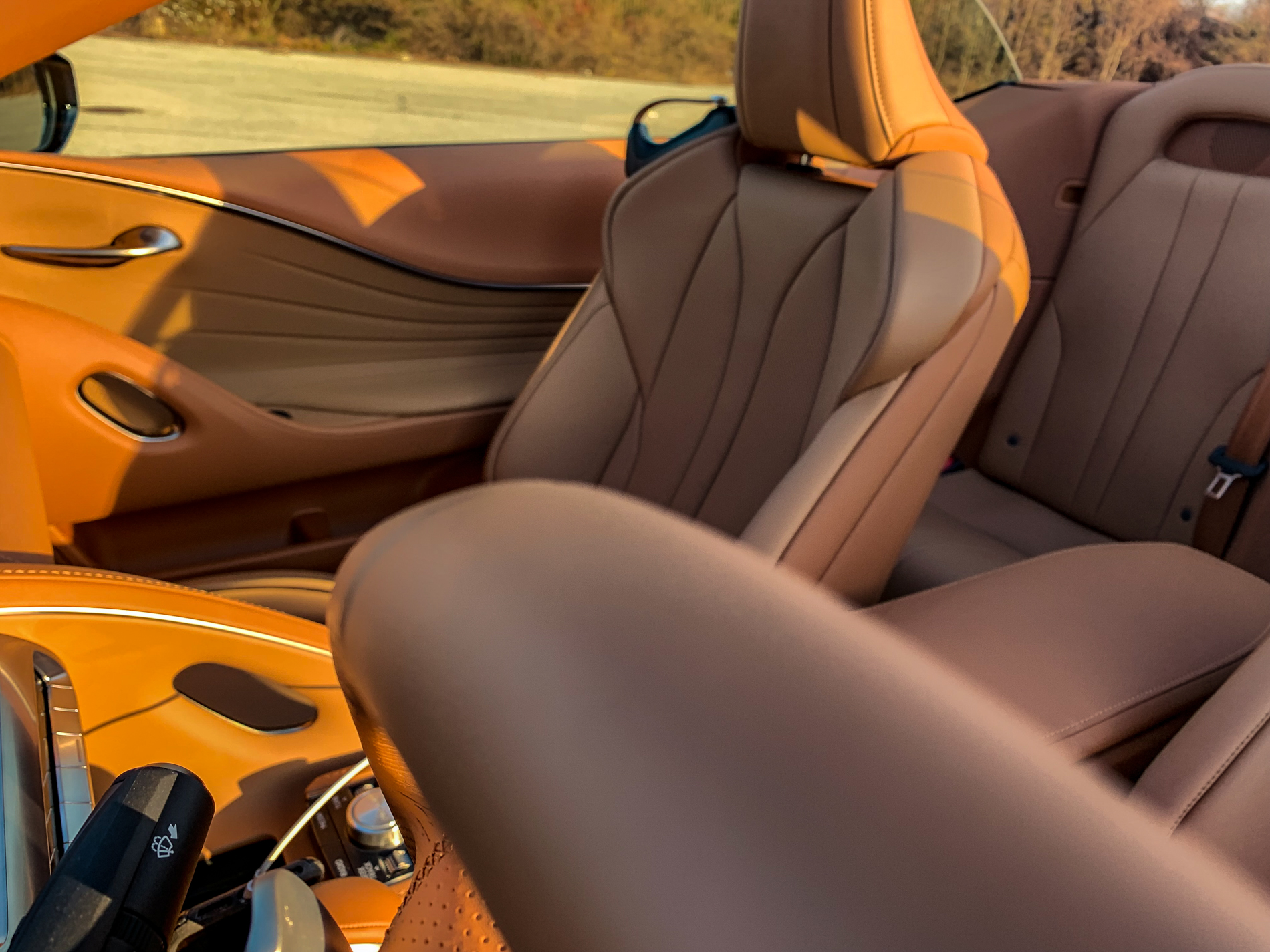 Lexus interiors, particularly on their top tier vehicles, have been pretty impressive for some time. With basically every surface you touch covered in some sort of expensive-feeling material it's a great place to spend time. The LC 500 is spectacular, with dramatic sweeping design elements throughout. Check out those door panels, they rise from back to front to meet the dashboard.
So it should be no surprise that it's magnificently comfortable. At first, I thought the seat bolsters were a little snug; instead maybe I'm a little fat, because they are genuinely perfect. The more time you spend in the LC the more comfortable it gets.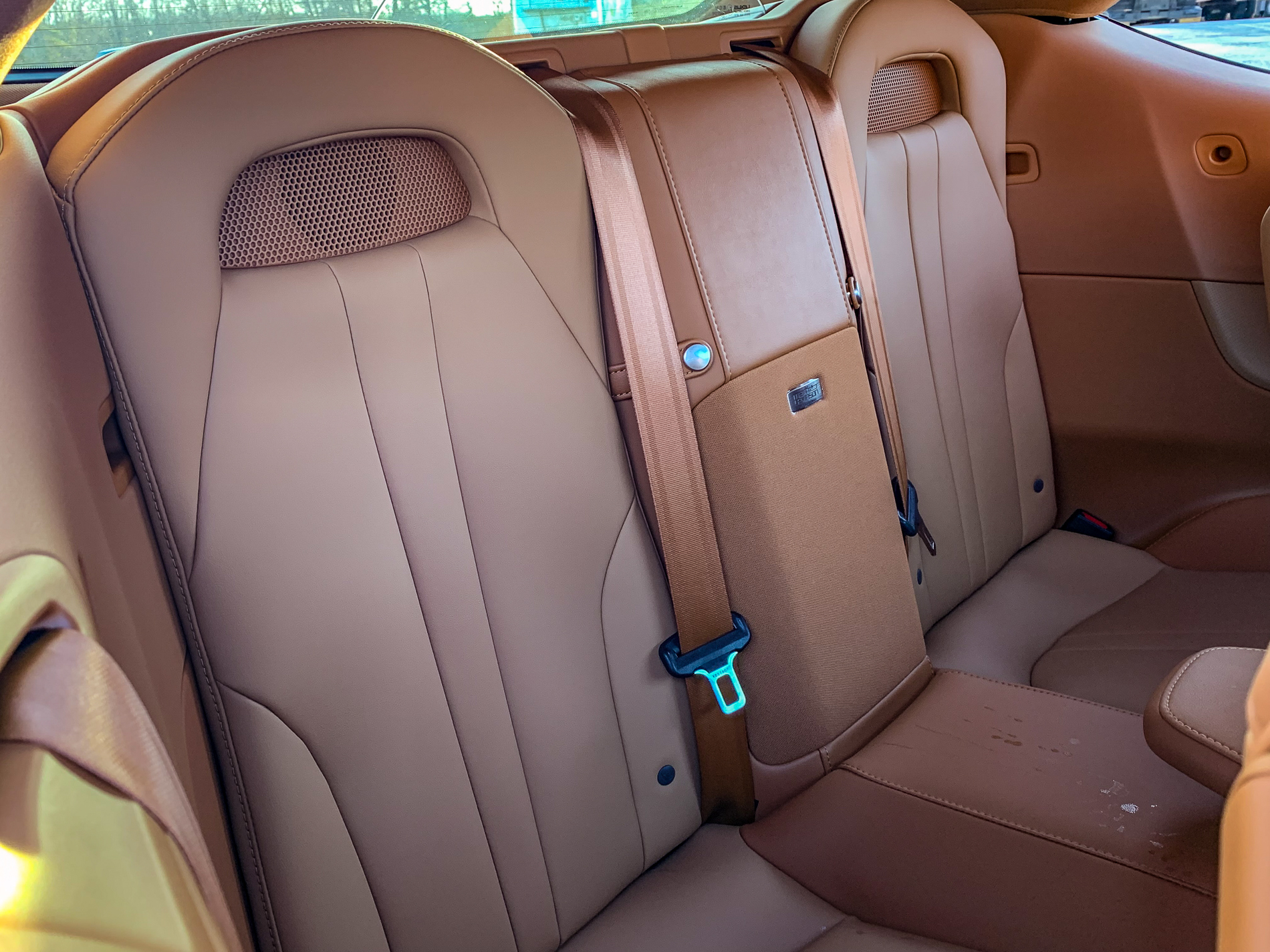 It's not all perfect, the LC 500 has to endure the Lexus infotainment system. That means there is no touchscreen, it even has a clear cover over it to make sure you know it's not a touchscreen. The worst bit is that you have to control things through the trackpad, it is just as infuriating in the LC as it was in the UX we just reviewed. The minimalist dash looks amazing, but means that you have a few less real buttons to use.
The heated seats for example don't have a real button and so it takes three to five clicks on the ole touchpad to activate. There a few buttons just ahead of the touchpad and rotary knob, but they sit just in front of the cupholder. That means they are easy to accidentally hit, something I did on multiple occasions. There are a few other foibles, the sun visors are tiny, but that's just a typical convertible thing.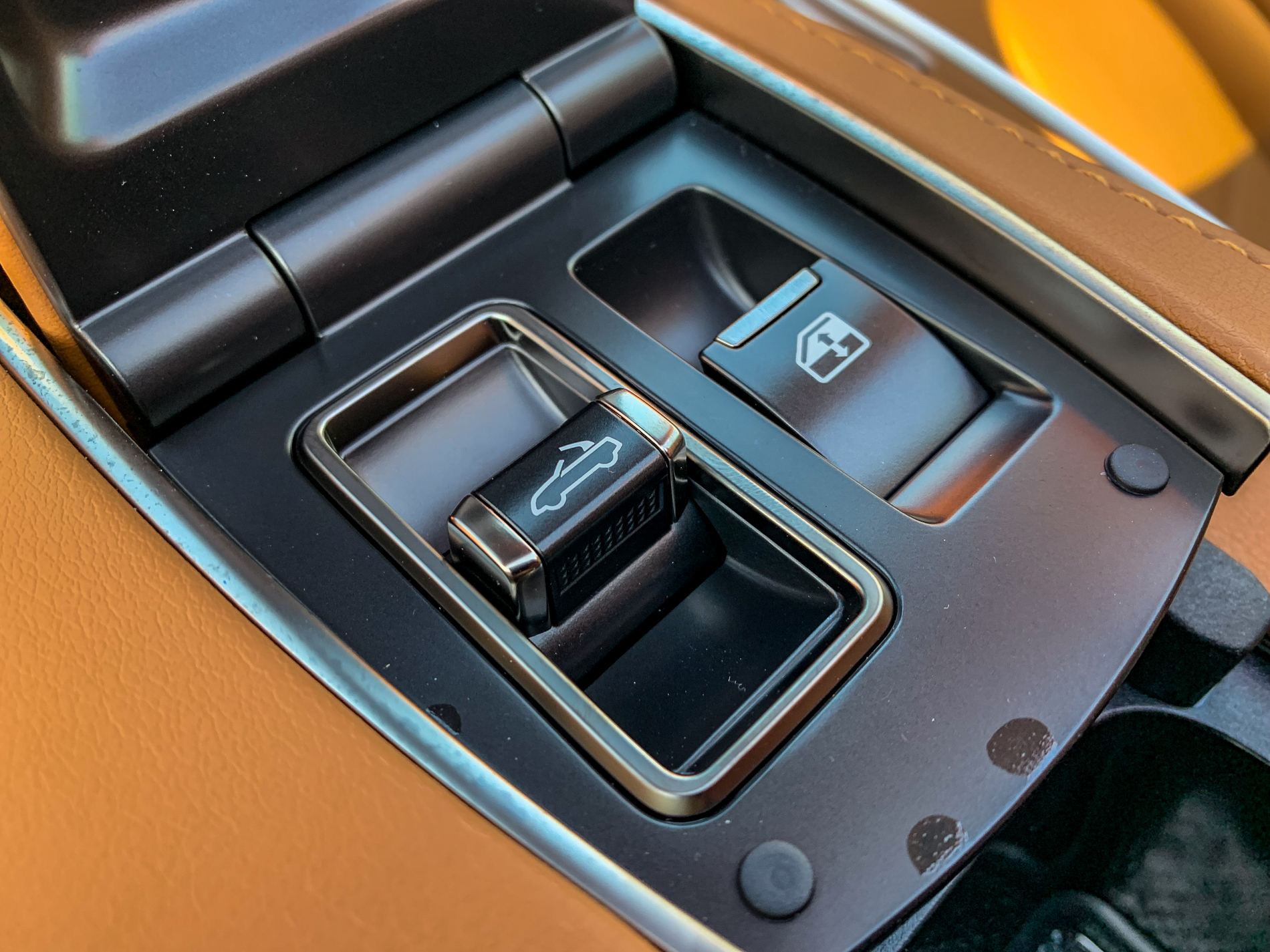 What I initially didn't like on the last convertible loaner (because I couldn't find it), but grew to love, was the hidden top controls. Flip up the leather-covered wrist-rest in the middle and you'll find the buttons that control the soft top as the windows (it's the only way to operate the small rear windows). Oh and if you want to take the LC convertible on a long weekend, pack light. It's got 3.4 cubic feet of cargo space. #worthit.
All this to say, the interior has a few quirks but overall it's also fantastic. Anyone spending $100,000 on a car will not be disappointed.
And that's even before you drive it.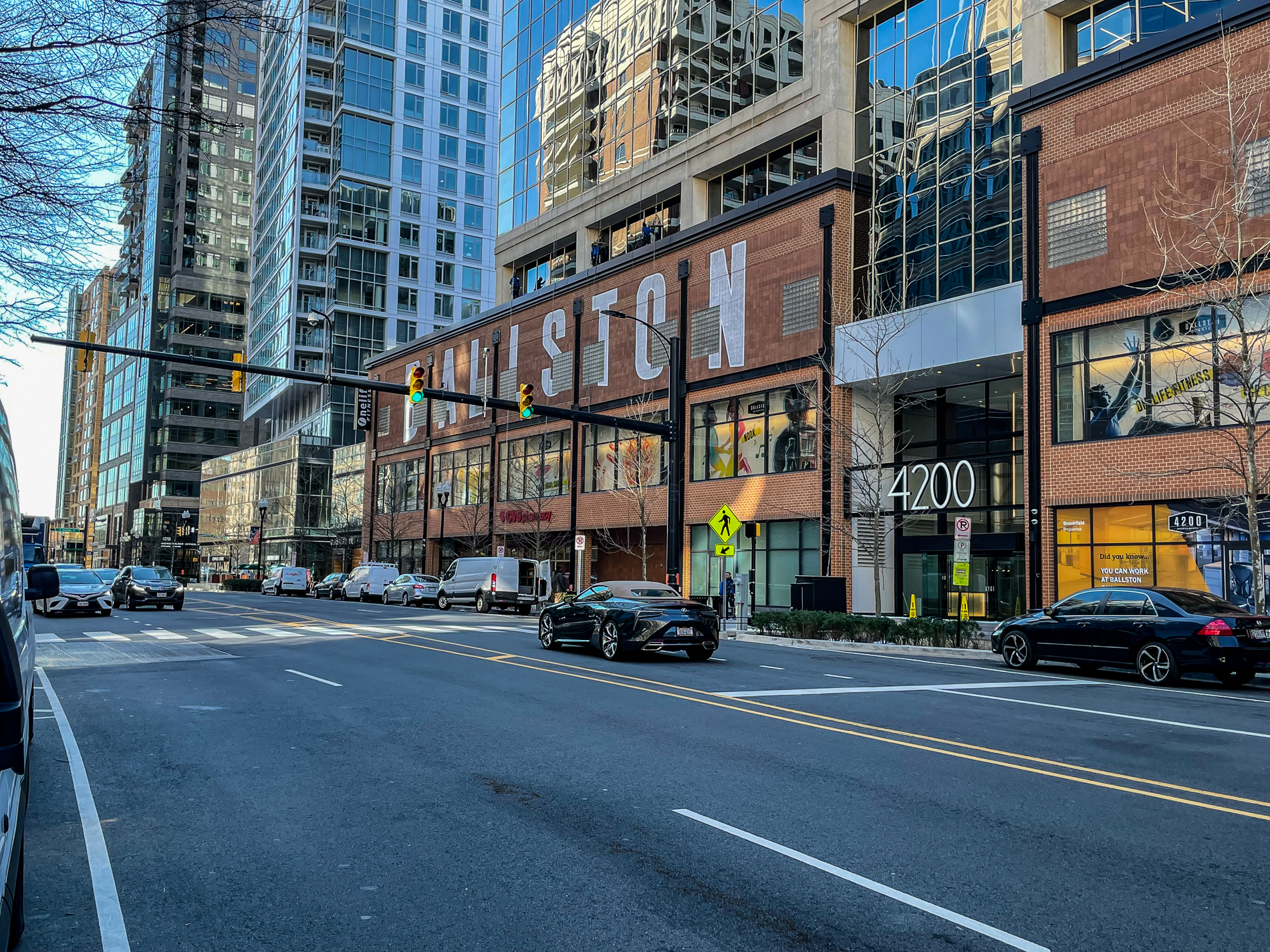 Driving
The LC 500 is powered by a 5.0L V8 engine (designated 2UR-GSE) putting out 471 horsepower. OK, it weighs 4,540 pounds which is not exactly light. However it sounds amazing and will do cruiser GT all day long. However, when you put it on Sport mode, it transforms into an absolute animal. Sport mode even becomes much more aggressive after the car warms up. It's massively fun to drive. The ten speed auto allows you to select your gear without much drama or the judgy "we'd prefer you didn't do that" downshift. The 15.7 inch ventilated rotors with six-piston opposed aluminum calipers up front do an admirable job of stopping the heavy LC.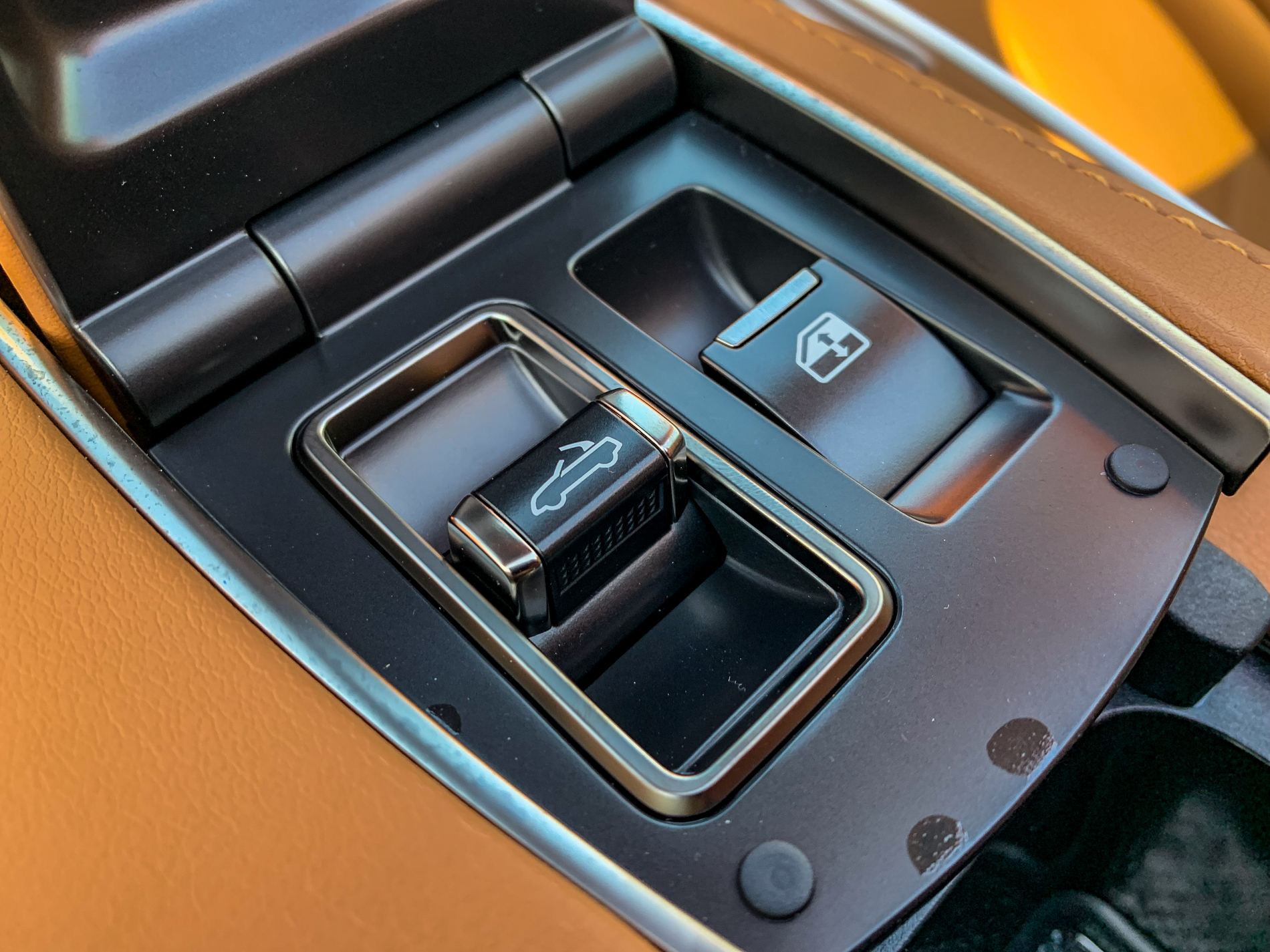 Roof operation takes 15 seconds to open and 16 seconds to close so its easy to do at a stoplight. Downsides are few, the clear plastic diffuser reflects sunlight directly into your eyes through the rearview mirror in heavy sun. But that's about it, I continually came up with reasons to drive the LC convertible.
Summary
This is truly a fantastic car. When I first reviewed the coupe I claimed that I would take it over a Porsche 911. It was an audacious statement, but if it's my money, I think it still holds true. I know, the LC is more GT than sports car, but that's what I'd want at this point.
The LC 500 is fast, it's comfortable, and it looks like a spaceship. If you are in the market for a GT convertible, it's still one of the best.