When people find out what I do for a living they almost immediately ask two questions. 1) "what's your favorite press loaner?" and 2) "I need a new car, what should I consider?" The first one is pretty easy, it's the 2017 Cadillac CTS-V. The second one typically takes a bit more discussion. For anyone considering a luxury sedan or SUV, lately I've been pointing them toward Genesis. I had a go in a 2022 Genesis G70 sedan recently and was enamored to say the least. So, when I got the loan schedule and saw that the SUV version was inbound, I got pretty excited. So, how does the GV70 match up to it's sedan cousin?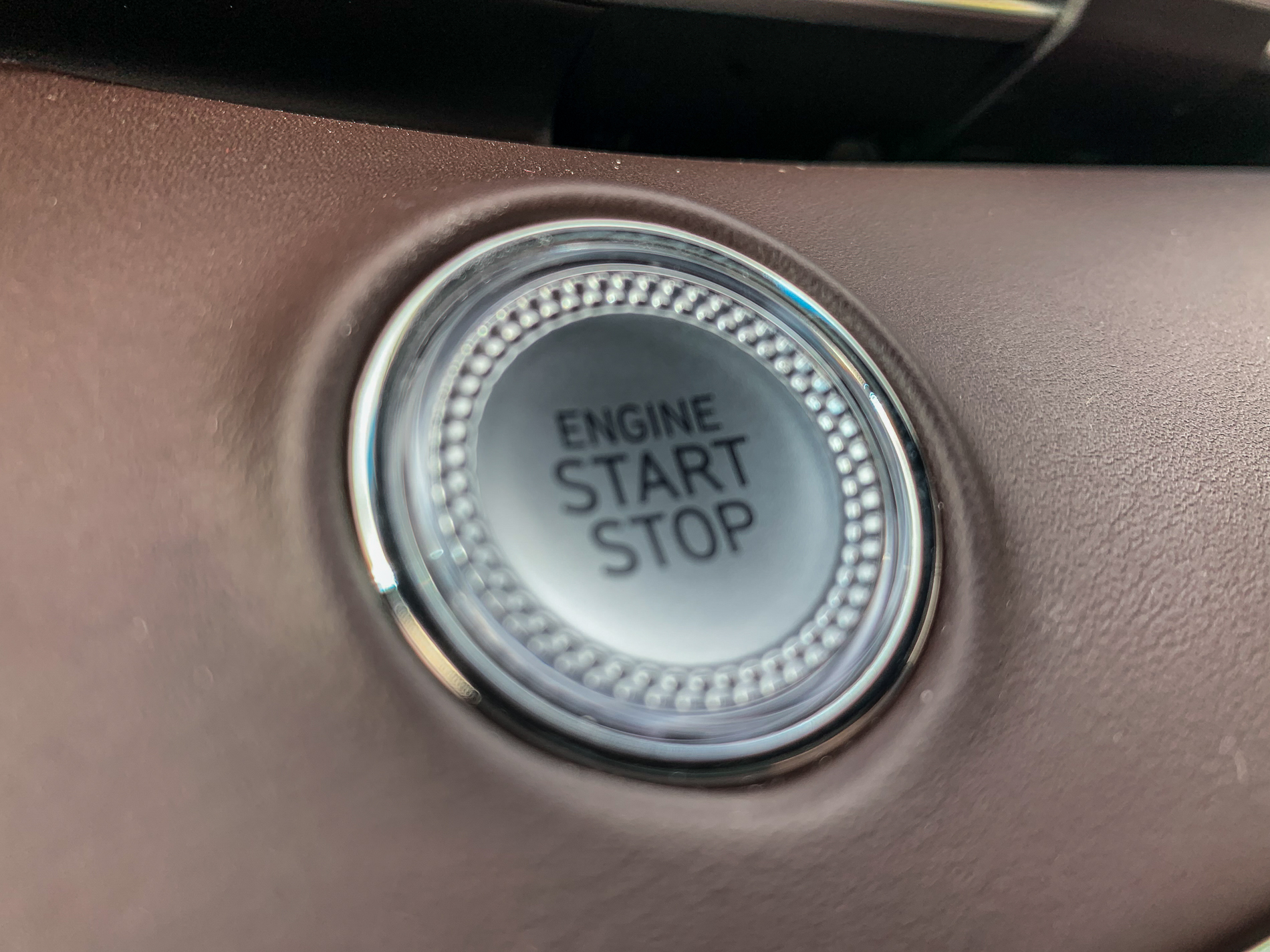 2022 Genesis GV70 Overview
The GV70 comes in two main flavors for 2022, both AWD but with different engine options. You can't really go wrong with either, the 2.5T gets 300 horsepower and 25 mpg combined city/highway while the 3.5T gets 375 horsepower a slightly lower 22 mpg combined.

Genesis generally does a good job of grouping options into easily selectable buckets but it can get a little confusing. Major differences are wheel size (18″ for Standard, 19″ for Select and Advanced, 21″ for Sport Prestige), Panoramic roof (all but Standard), Sport Appearance (Sport Prestige), real leather (Advanced), leather with mesh insert (Sport Prestige), and some tech and driver aides like Surround View monitor, Remote "Smaht Pahk" Assist, Blind-Spot View Monitor and Parking Collision Avoidance Assist (Advanced and Sport Prestige).

Did you get all of that, if not I'll break it down a bit further? You can see the pricing for yourself, the cost definitely adds up as you go up the option list. Our tester was an Advanced, which specifically adds everything from the Select:
19-inch alloy wheels
Panoramic roof
Ventilated front seats
Power-folding and auto-dimming side mirrors
Power-adjustable steering wheel
16-speaker Lexicon sound system
Driver's seat memory settings
Plus the actual Advanced package:
Leather upholstery
Interior ambient lighting
Rear side sunshades (manual)
Heated steering wheel
Surround-view monitor (top down camera)
Blind Spot View Monitor (cool instrument cluster side view)
Remote Smart Parking Assist
Rear automatic braking (basically8 collision avoidance)
Rear seat reminder (helps you parent I guess)
There are 13 exterior colors for 2022, 12 of which will set you back $575-$1,500 (white is free). Save for a few odds and ends in the "accessories" section, you're all in on a similar GV70 like this one at around $51,300. That's about $9,000 less than the 3.5T Sport Advanced for 2022.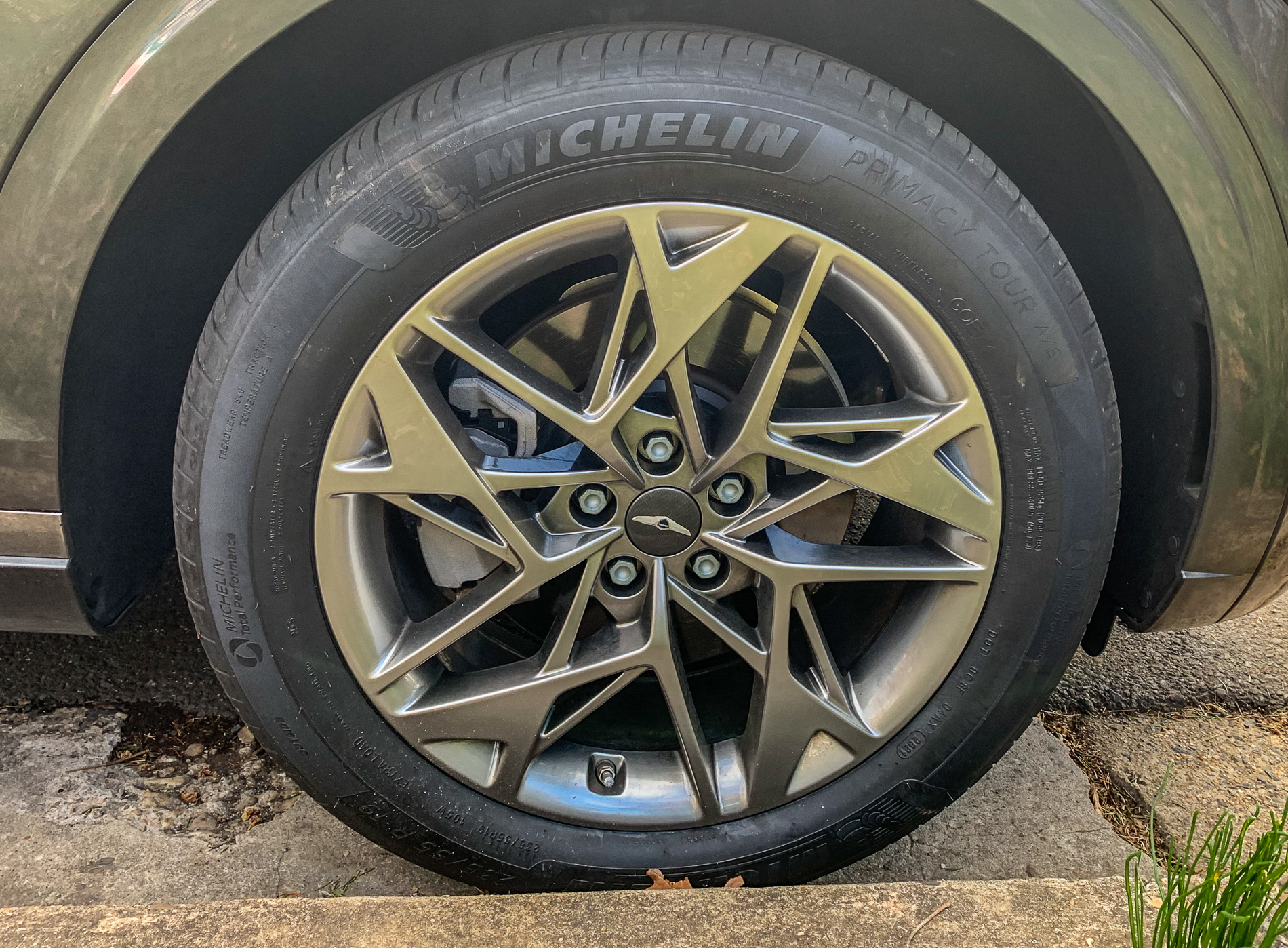 GV70 Inside and Out
The GV70 sure is a pretty thing. My neighbor has one in dark green that is just *chef's kiss*. Genesis is absolutely killing it on exterior design lately, they haven't put anything out that I didn't absolutely love. If I had to look for anything I didn't think was incredibly well executed, it's possibly the wheels. The multi-split-spoke design is a little busy, but it's also so much different than anything else right now I can't get mad about it.
On the inside, it's generally the same story. While it's not quite perfection, it's damn good, particularly for the price. The interior is fantastic, with first rate materials and a great layout. I like the widescreen interface (14.5 inches) and even though it appears to come from the "just glue a screen to the dash" school of interior design, it fits the aesthetic of the interior. Although I'm not 100% sure what that aesthetic is, as it comes across a little bit like a Vegas lounge. And I say that as a compliment, it's a cool place to spend time. I'm not certain about what appears to be a topographic map flowing through the cabin.
Genesis calls it "Wave Line Mood Lighting".
As interior garnishes, the ambient mood lamps blend in with the surrounding materials to provide an elevated sense of elegance.

Genesis.com
In a sea of gray German interiors, what Genesis has created is pretty cool. It's even got something called a "velvet burgundy" interior color, which sounds pretty fabulous. In practice, it's a bit brown, but that's OK. The seats are super comfortable and just beg you take the GV70 off on a long road trip. If you said I had to drive this to Miami from D and had to get there before Formula 1 practice begins in roughly (checks watch, wait don't have one, checks phone) 46 hours, I'd happily hop in and go. But I've got plane tickets, so perhaps next time.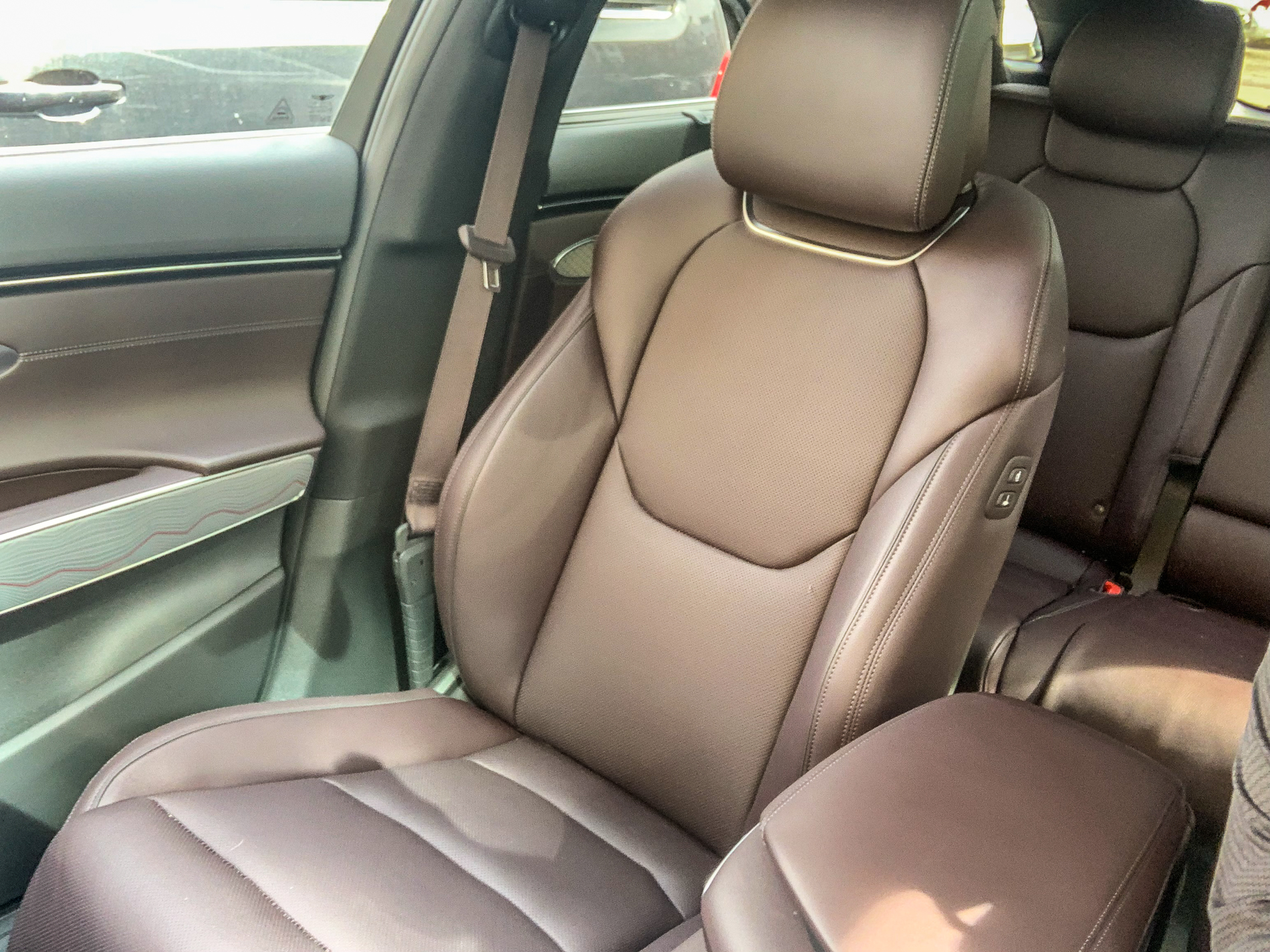 From a tech perspective, things are good overall. Most Hyundai/Kia/Genesis infotainment systems are solid, and this is no exception. The darn thing even has a fingerprint reader to know which driver is on board so it can update the settings accordingly. While that seems a bit unnecessarily complex (other manufacturers just link settings to your key) it's still cool. Since there is no specific button to change the radio station on XM, I can't really easily swap between stations while using CarPlay. However, I have literally had criticisms of engaging with the local car-based system and the Apple system at the same time in just about every vehicle I have tested lately. A lack of actual buttons in modern vehicles amplifies the issue.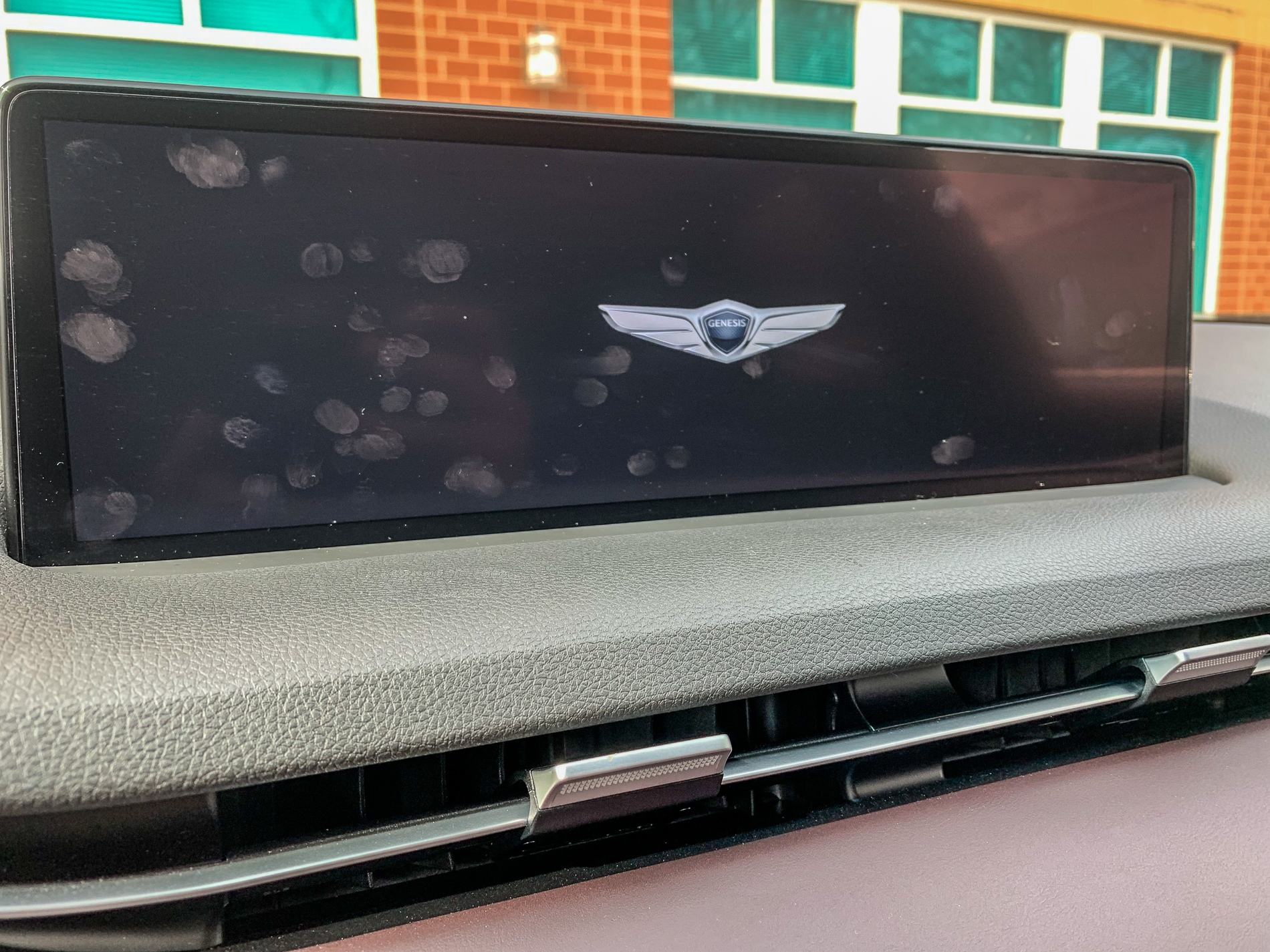 Driving
Genesis engineered silence into the GV70 like any luxury automaker should. It is ridiculously quiet! Day to day driving insulates you from the madness that is today's crazy world. At 4,156 pounds it's not light, but the 300 horsepower makes decent work of most driving situations. There is a bit of turbo lag, particularly off the line and at lower speeds. Flatten the accelerator and then take a breath…and then it gets going. However, it has decent mid and top range power which is where you typically need it the most in an SUV like this.
It's even got a high-end looking drive mode selector that changes color depending on what you select.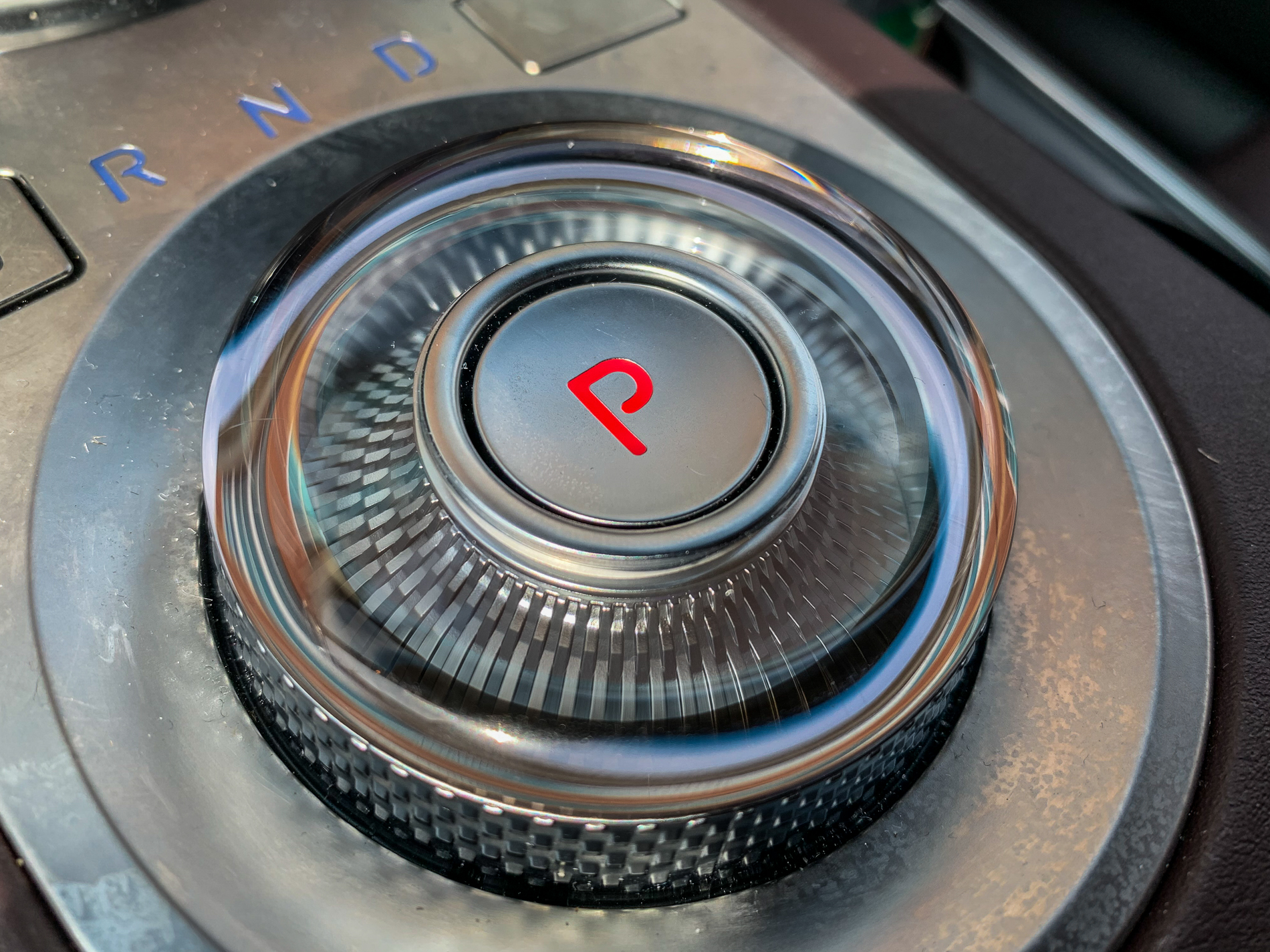 The fantastical interior can be a little distracting. For example, the rear door handle light is so bright and shiny that when you look over your shoulder it shines right in your eyeball. Minor issue if I'm honest, the Genesis GV70 is that good.
Summary
Buy it.
I don't usually just say that in such a blunt fashion, but it's so good. At the $50,000 mark it's hard to beat if you need a comfortable family hauler. It looks amazing, it's very comfortable, and it's got plenty of tech and convenience to justify the price tag. Buy it.