Every once in a while something special comes along that makes this job a whole lotta fun. In a sea of anonymous crossovers, the Hyundai Elantra N is quite special. I usually start these reviews with a slow build, "is this new blah blah any good?". Well the Elantra N is freakin fantastic. You can stop reading there if you want, but if you want to hear just how good, let's keep going shall we?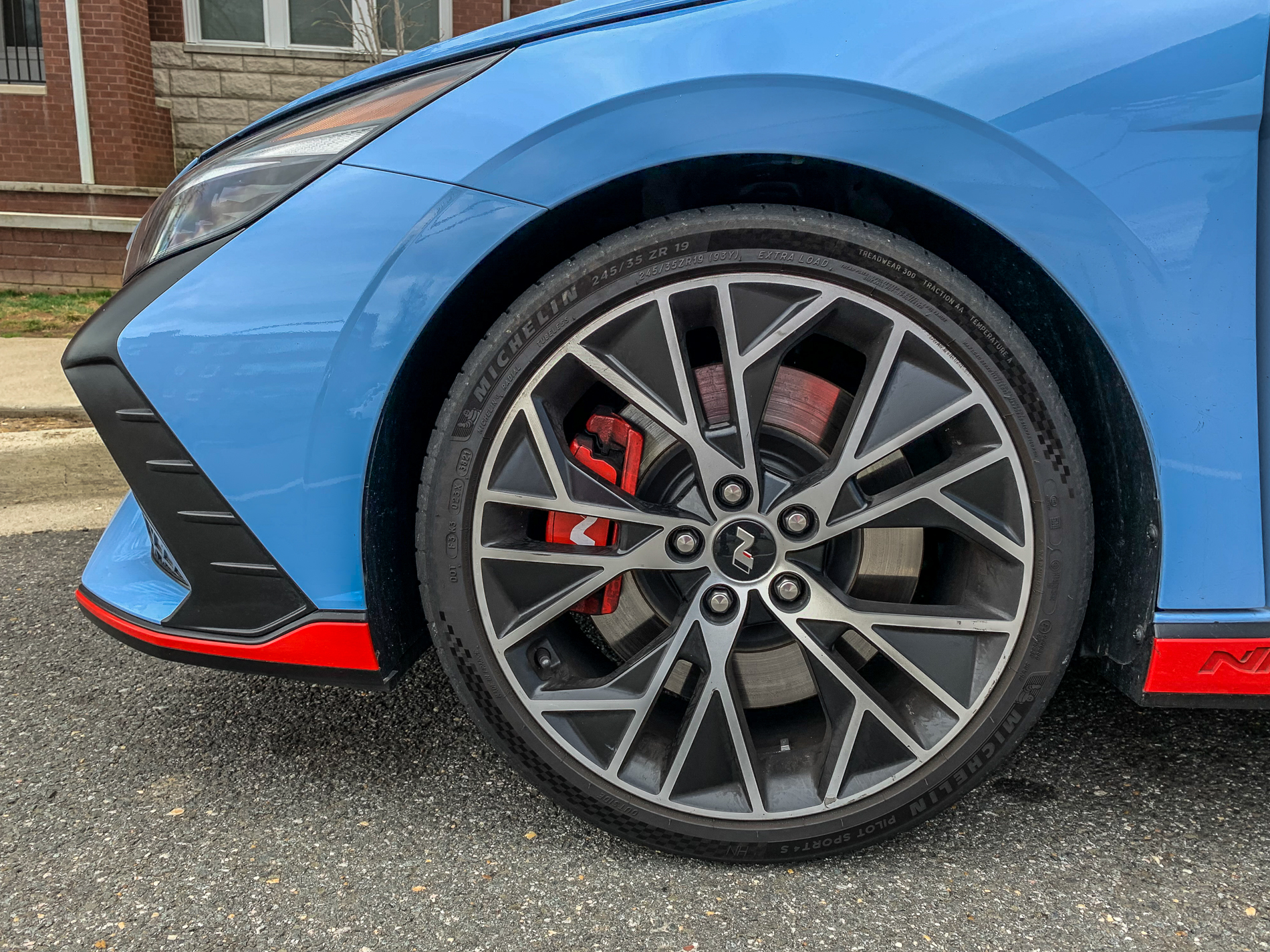 Elantra N Overview
This one is easy, the window sticker on this one is pretty much blank. Sure, it has the standard stuff listed, but there isn't really anything else to see. The 2022 Elantra N comes in one trim level with a choice between five colors (you need Performance Blue, although Intense Blue (pictured further below) is pretty solid).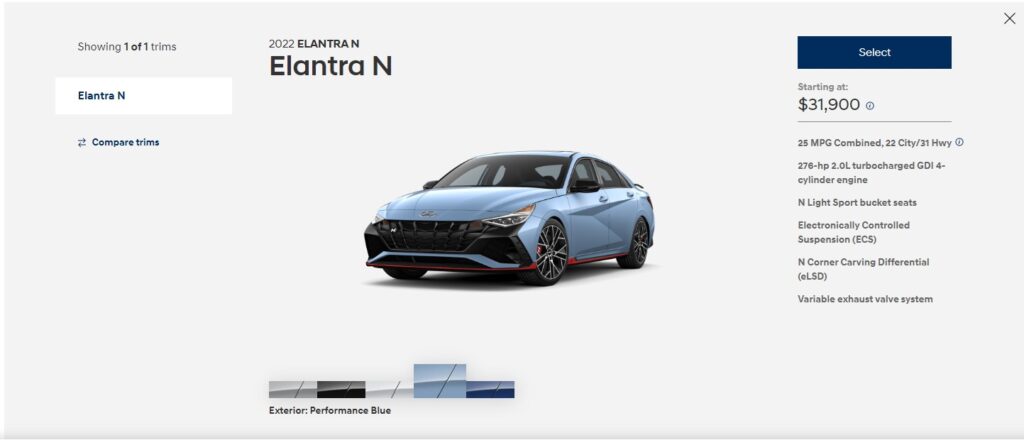 The interior comes in one hue – black leather-trimmed with microsuede. Your options are the standard engine with a six-speed manual or the standard engine with the N eight-speed wet dual clutch automatic ($1,500).
Oh and you can add any option as long as it's cargo related. There is a cargo net ($55), something called the Preferred Accessory Package ($140) and a rear bumper protection applique ($75).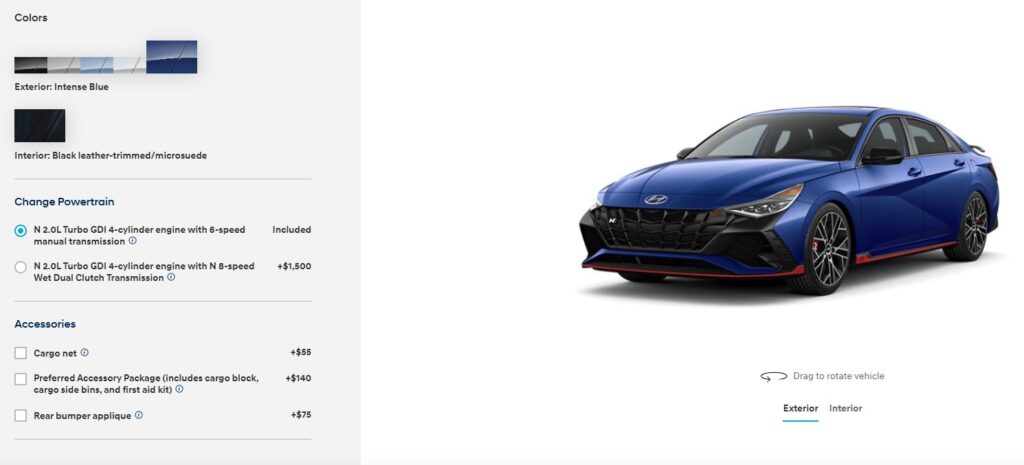 So, a fully loaded automatic Elantra N with all the cargo accessories you can possibly handle comes in at $34,715.
<mind blown gif>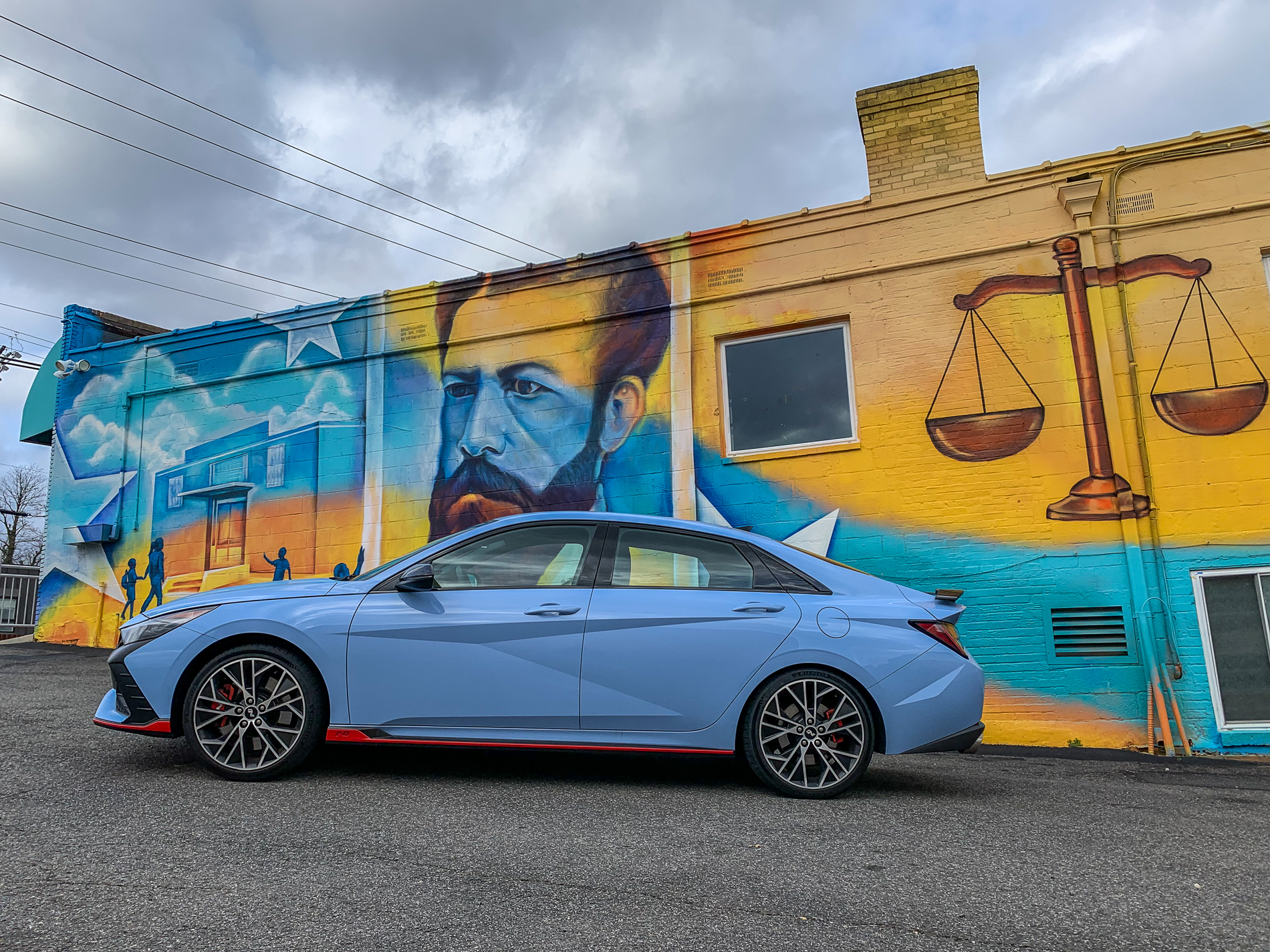 Exterior
The regular ole Elantra is a handsome thing and Hyundai even touts "The sedan is back. With an edge." on its landing page. A fair comment, though Hyundai hasn't abandoned the sedan quite yet, while others have (hi Ford!). Like most new Hyundai models, there is a barrage of intersecting creases and lines zig-zagging all over the car. I won't say that it's executed to perfection, but I've seen busier designs. The side profile in particular is strong and interesting.
The red accents are typical N flair and look striking next to the baby blue paint. If Hyundai wanted to create a "yep that's an N" look that would be immediately recognizable, they nailed it. Critiques mostly involve the front end. Hyundai went a bit overboard on the black trim up front. It's sporty, but not all that handsome.
A Reddit user from r/Hyundai took a crack at fixing it via PhotoShop and it looks great.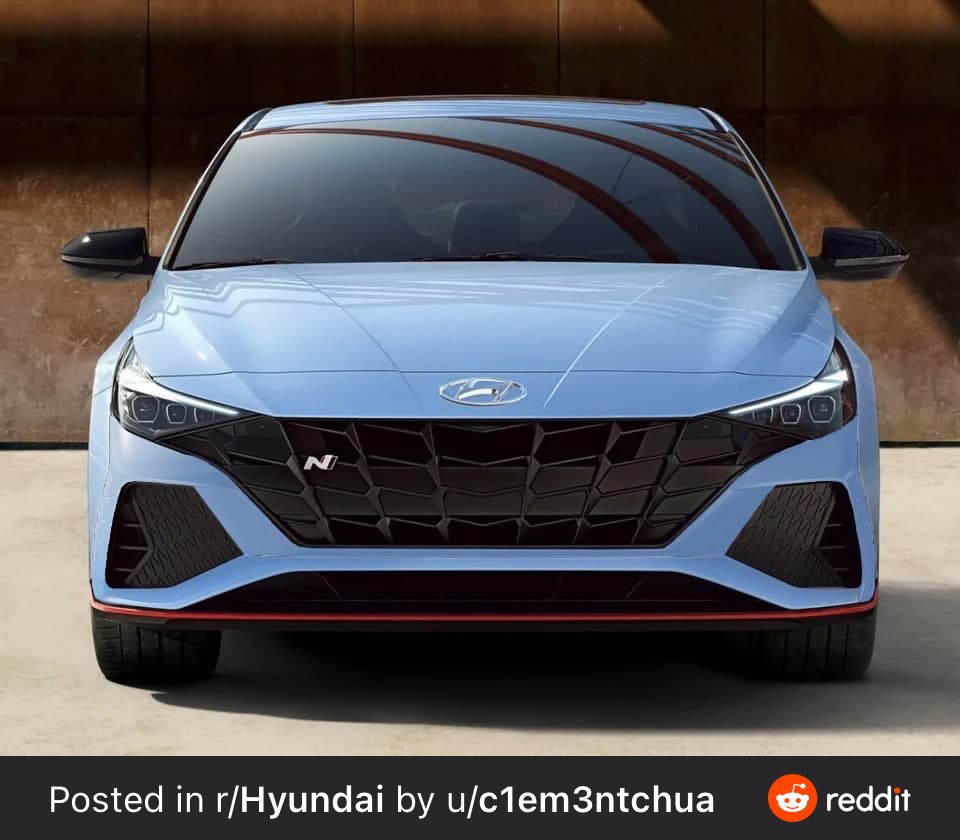 Elsewhere, the rear wing is a little futzy. I would have preferred something a bit simpler but it fits the aesthetic so I wouldn't kick it out of the driveway.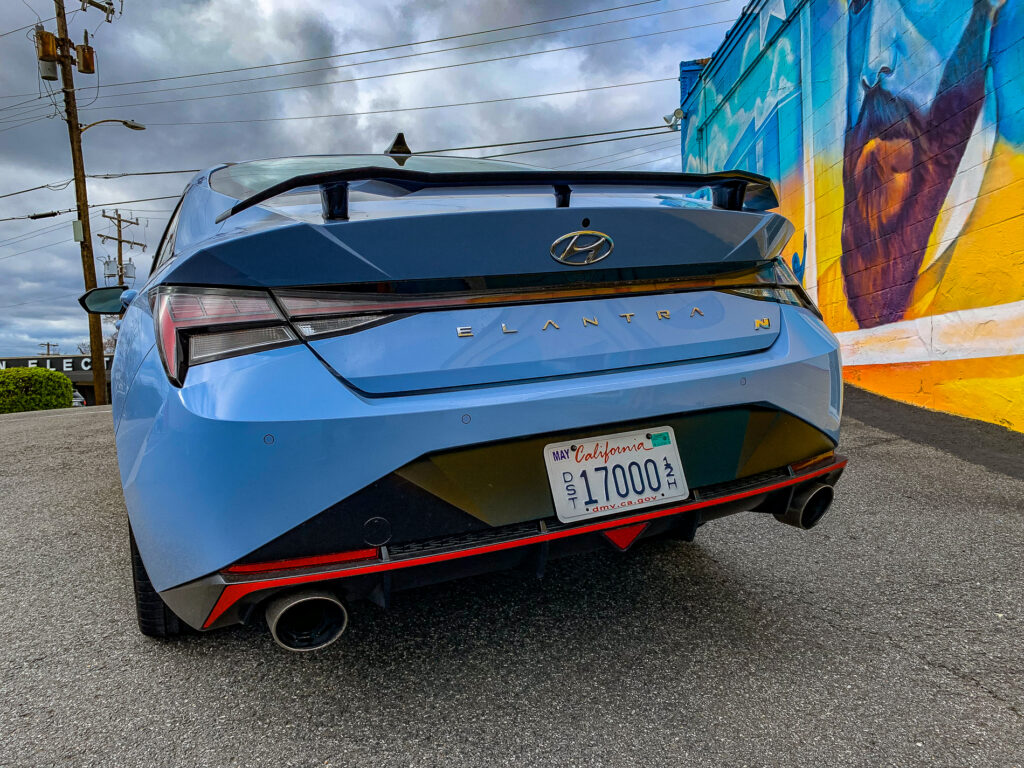 This is all minor, the Elantra N is a great looking car and stands out in the crowd. More on that in a bit.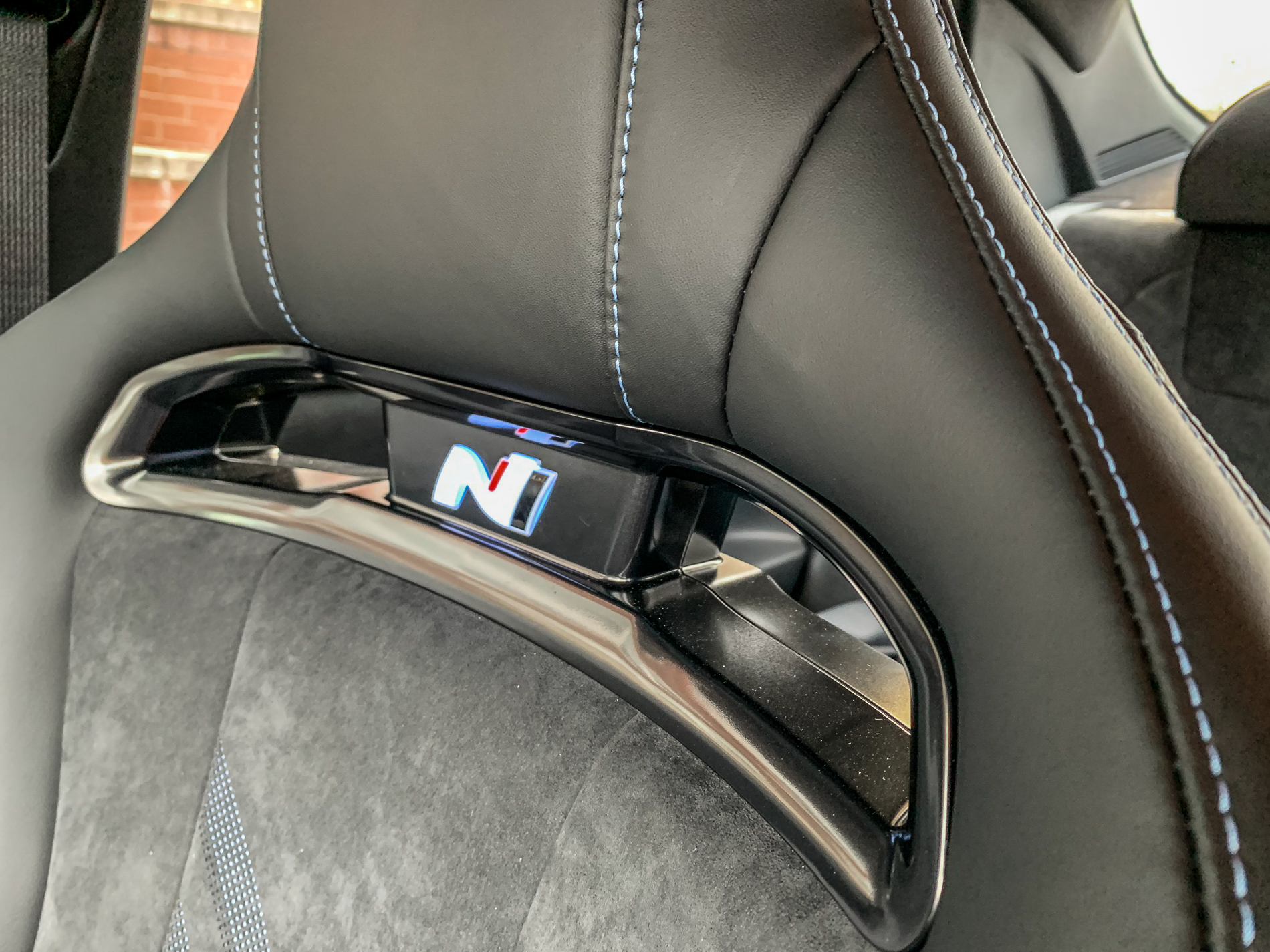 Interior
The sporty looks continue to the interior with a modern Hyundai setup plus some nice N-specific touches. Twin 10.25 inch screens are on board, one in front of the driver and has fun features like a shift timer and performance info like oil temperature. The other is a typical touchscreen with Hyundai's latest infotainment system complete with Android Auto and Apple CarPlay.
When you launch into N-mode you get fun little animations on both screens. Oh and if you dive into the advanced settings, you can add artificial interior cabin noise to make the Elantra N sound like the Hyundai Touring Race Car (TCR). But it sounds great on it's own.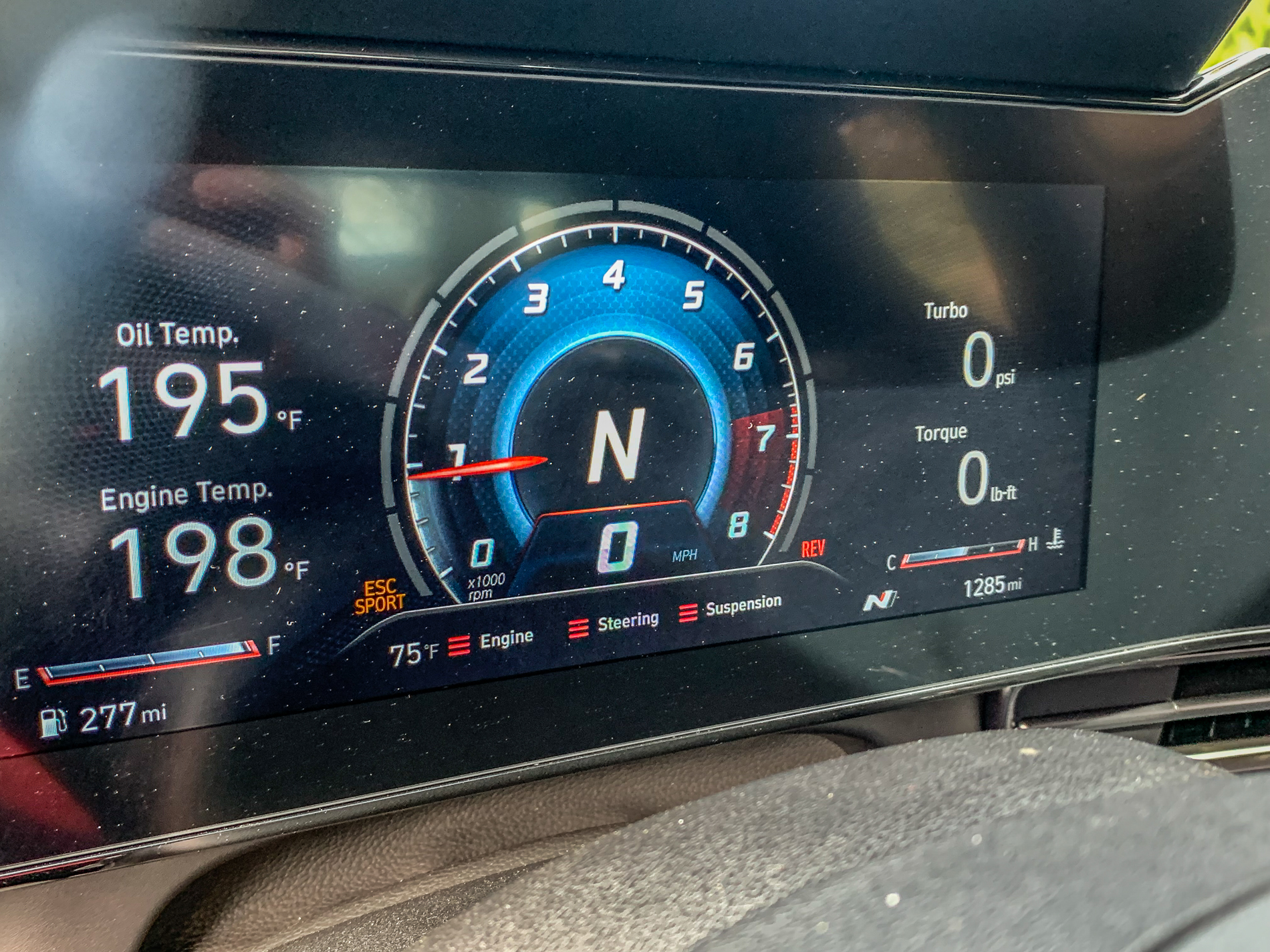 The familiar ///N button is on the steering wheel, well actually there are two of them for N-mode one and N-mode two, plus a button that just says "REV". In what may be the best button I've come across lately, it does exactly what it suggests. The rev-matching function is activated, and deactivated, by pressing the "REV" button. So cool.
What does it do when you spec it with the automatic you ask? Great question, it says "NGS" in that application, which is an overboost feature. NGS stands for "N Grin Shift" which gives you an extra 10 horsepower for 20 seconds. Boost baby!
The seats are fabulous, Hyundai calls them contoured "N Light" Sport bucket seats and that's because there is a dang light in it! Inside the seat! Naturally.
Boost and rev buttons, fun animations, lit seats, race car noises…Hyundai came and brought the fun. Plus, the headliner has two indentations up front on either side that look as if the driver and passenger wearing a helmet would have extra headroom. This is a serious car, just look in the trunk if you don't believe me.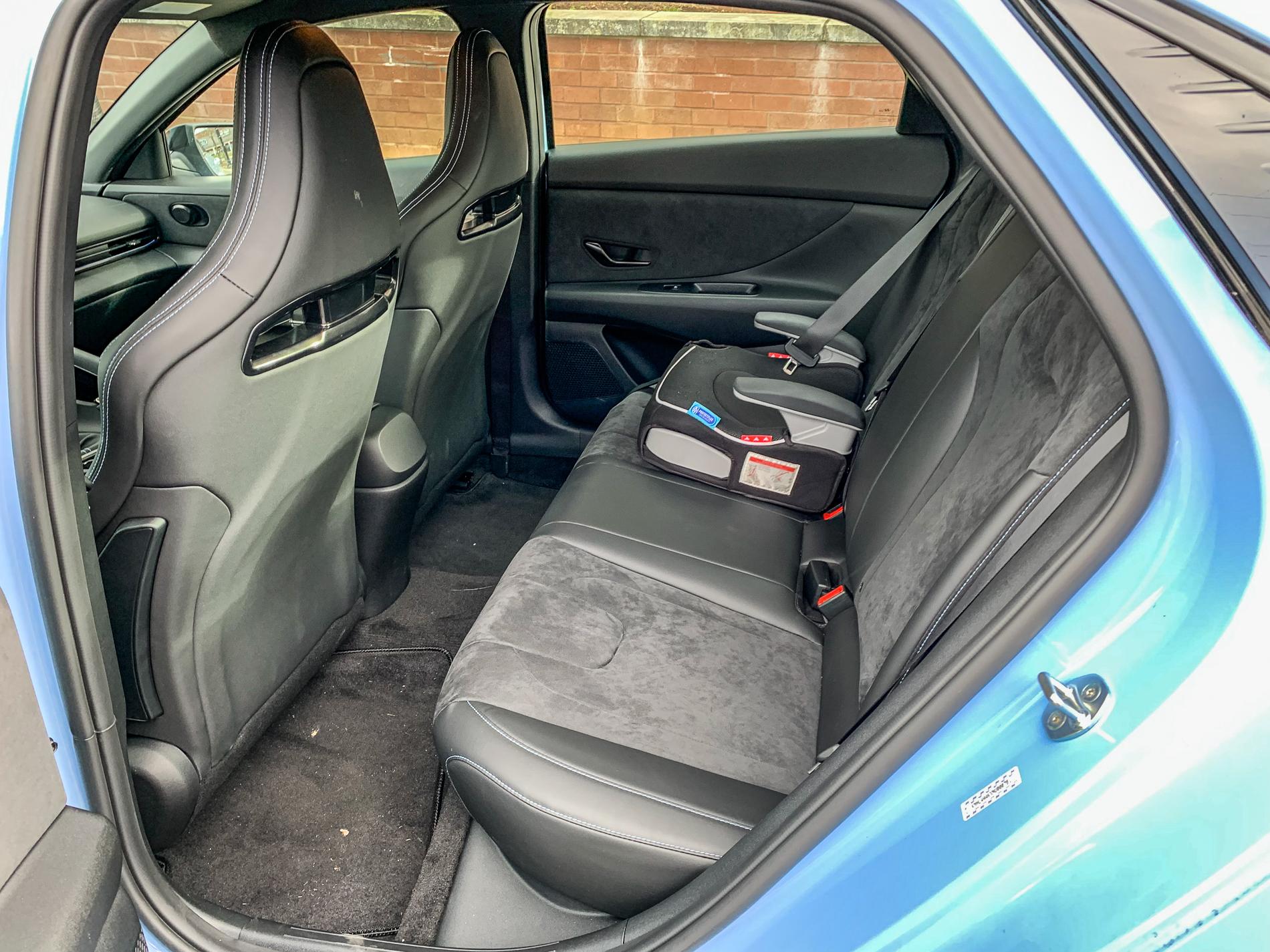 Yep, check out that scaffolding back there. The rear chassis brace is painted in bright red so you don't miss it. I stopped by a local Cars & Coffee and left the trunk open to show it off. People were shocked but impressed, many thought I had added it myself. Sure, it does impede some of the trunk's pass-through abilities, but whatever. #worthit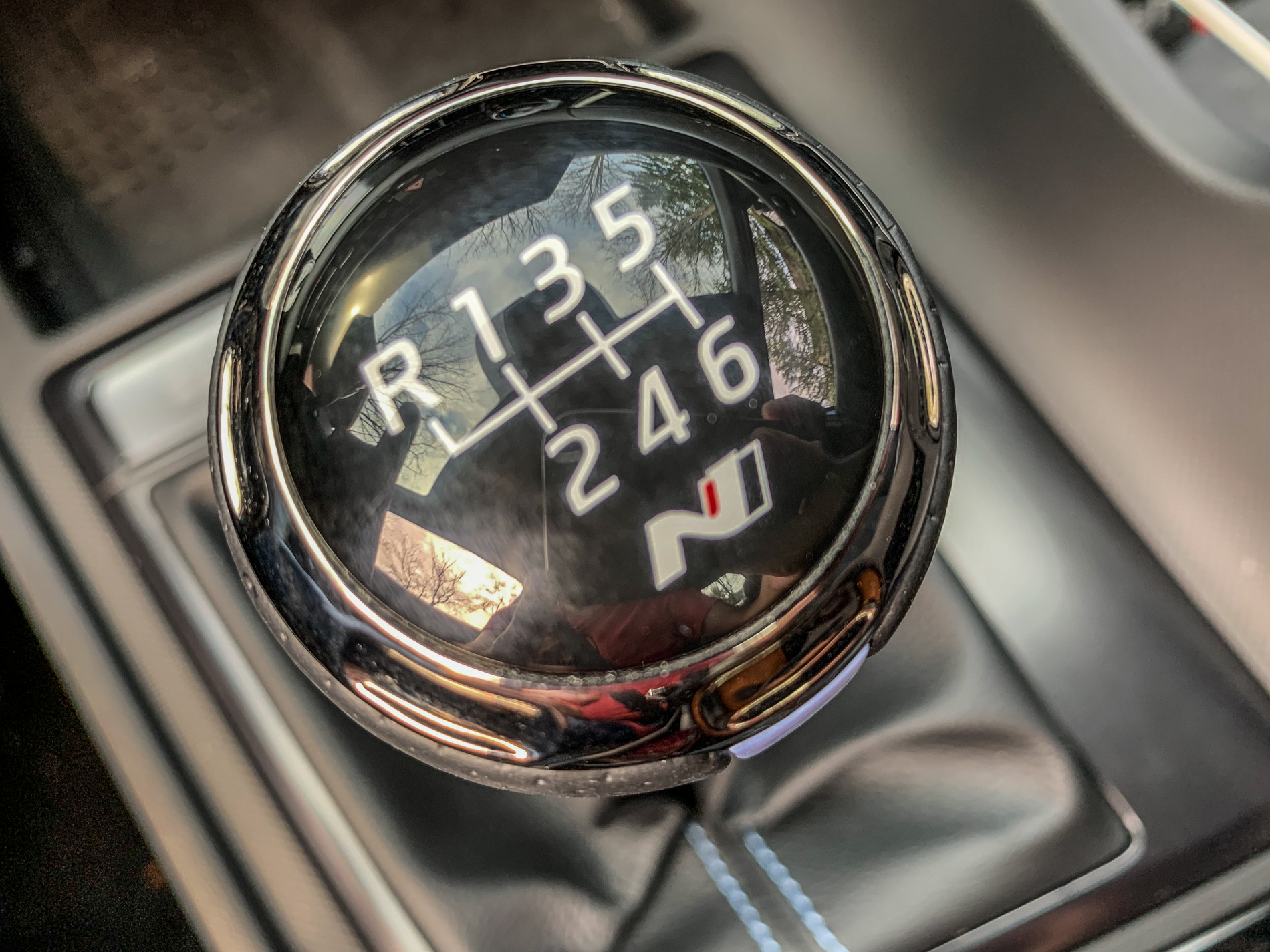 Driving
This all falls apart of the driving experience sucks. However, if you've heard much about the Veloster N, you know that's unlikely. The 2.0L turbo engine delivers a "just right" power output of 276 horsepower and 289 lb-ft of torque. Add that to the relatively light curb weight of just under 3,200 pounds and the Elantra N pulls hard. Plus it sounds amazing. The variable exhaust goes from commuter car quiet to angrily popping and burbling on every shift. It's intoxicating. You know all those "sport modes" that don't work? This one does.
Out on the road, the longer wheelbase (compared to the Veloster N) makes for a pretty pliant ride. The different drive modes help as well, Hyundai has an electronically controlled suspension which adjusts the damping force on the fly according to drive mode, road conditions, speed, etc. So, cruise in relative comfort or lock everything down for some cone killing at an autocross.
It's even got an "eLSD" which distributes more torque to the outer wheels to enhance traction. The 14.2-inch ventilated front rotors did a decent job of slowing the Elantra N down as well. During my time, I couldn't really upset the chassis through the bends*.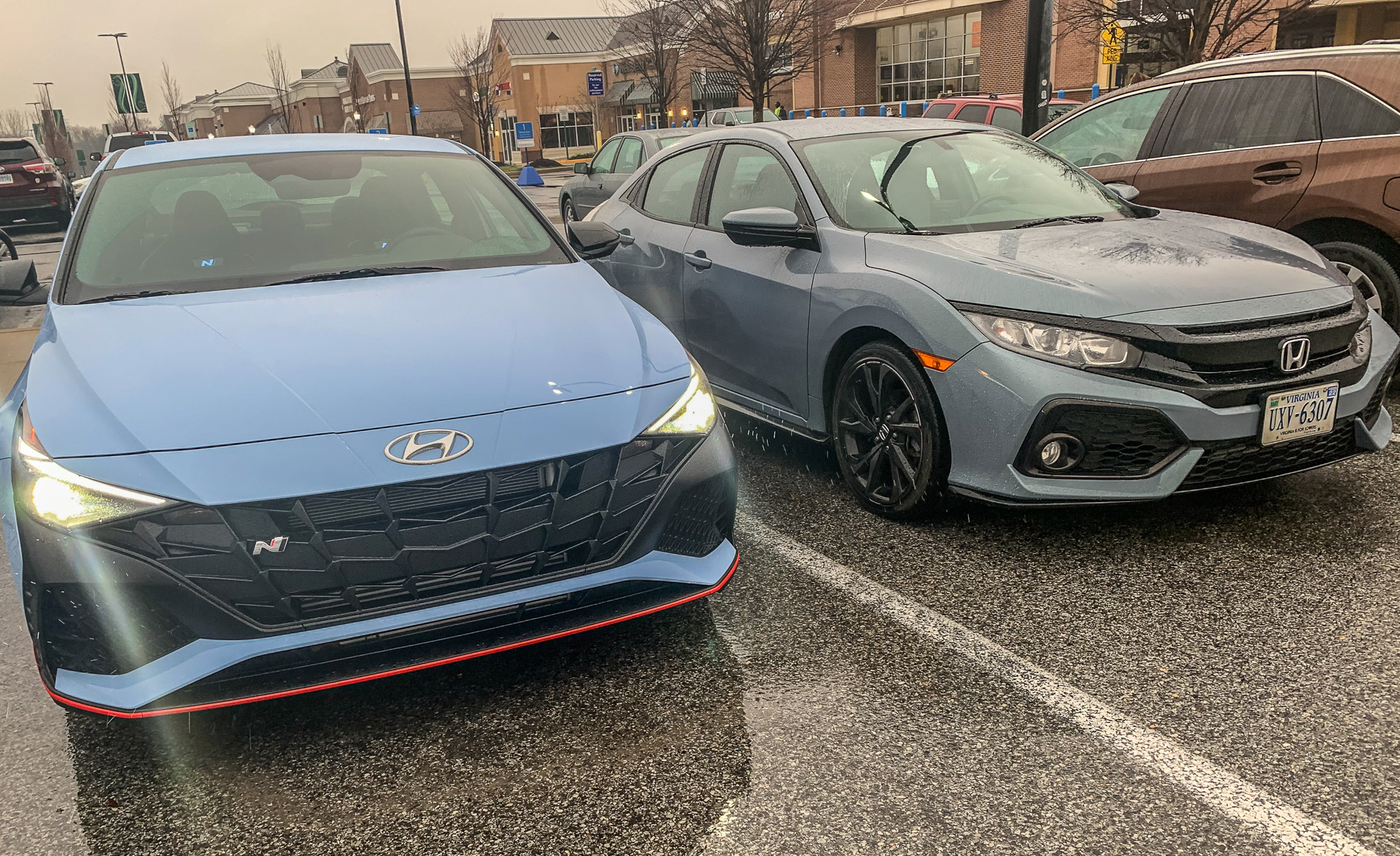 It's not all perfection though, the Elantra N has a good deal of axle tramp (which is the name of my Guns N Roses cover band coincidentally) in a straight line (*not a bend). On a wet, chilly evening, I had the front wheels bouncing hard through the first few gears. So you have to be judicious with the throttle depending on the conditions and remember that it's riding on 245/35Z R19 Michelin Pilot Sport 4S summer tires.
Plus, and this is the case with every Hyundai/Kia/Genesis product lately, the lane keeping assist very twitchy. It vacillates between "cool, here's some slight steering input help bro" to "let's go full opposite lock, ur gonna die". Minor thing, sort of, and you can just turn it off if you like.
So, minimal complaints all around, the Elantra N is an absolute blast to drive.
Summary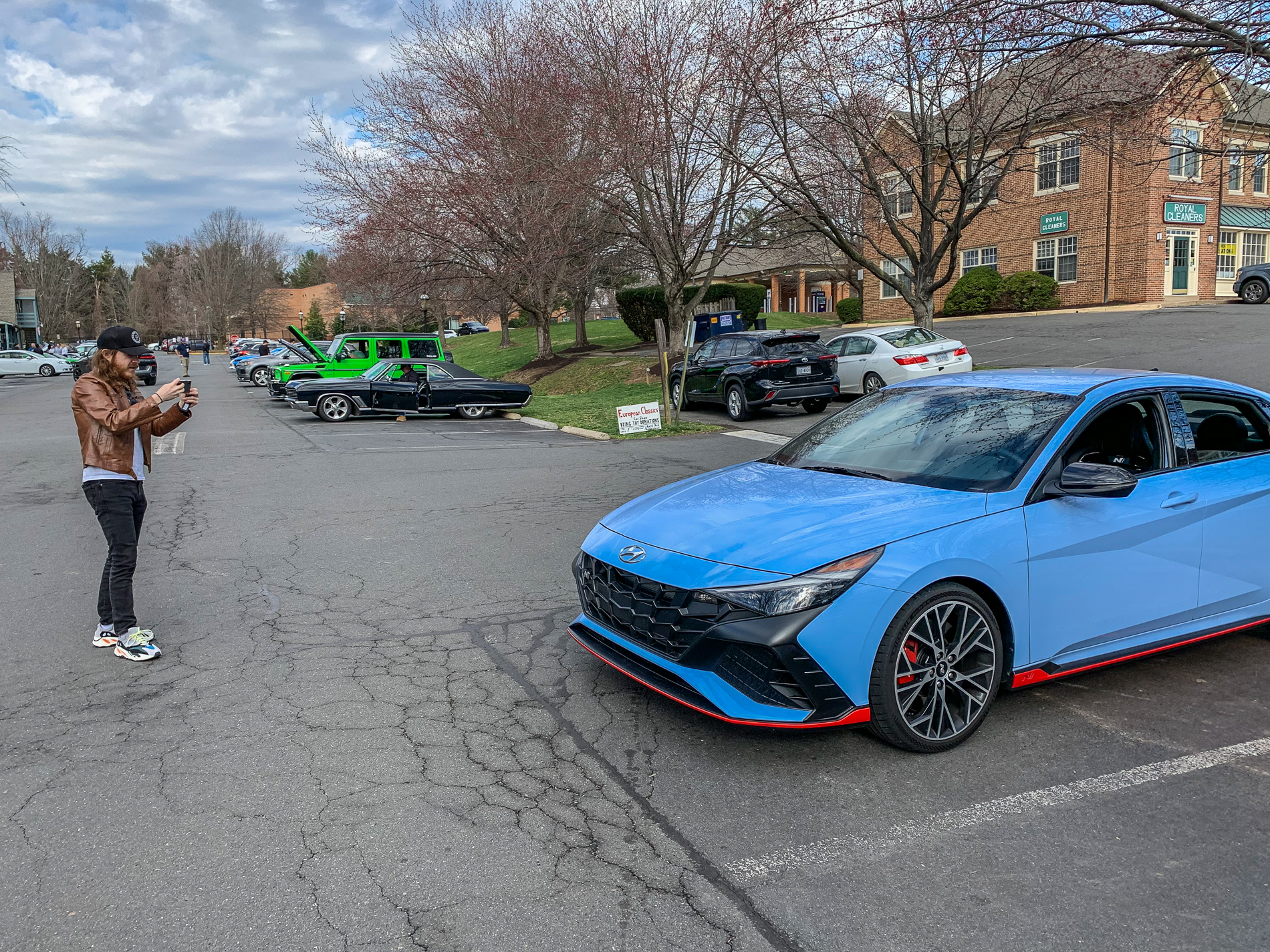 Dude, it's so good.
That's basically how I described the 2022 Hyundai Elantra N to just about anyone who would listen. Weird Car Twitter friends (who demanded I bring it to Cars and Coffee), other journalist colleagues, strangers in the car park, literally anyone. The extroverted styling isn't for everyone, but it's just so well engineered that I can overlook most of that. At an event filled with six-figure exotics, the Elantra N got a ton of attention.
Plus, it's not like it looks like a Honda Civic Type R…
Seriously, this car is fantastic. It's roomy and practical, with plenty of rear seat room and 14.2 cu.ft. of cargo space behind the chassis brace. The interior is well appointed, it's got loads of tech, and the damn thing only costs $34,000!
Go get one. Now.